Judge Rules on High Stakes Arizona Election Case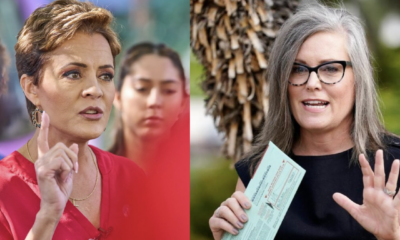 but securing Katie Hobbs' election as the state's next governor.
Lake, a well-known Trump supporter and 2020 election denier, also denied that Hobbs had defeated her by a razor-thin margin in the state's highly contested gubernatorial race this year.
In Maricopa County, Lake had requested the court to nullify the results of the declared election. She cited long lines and voting machine issues as the reason why many of her supporters were allegedly unable to cast a ballot.
According to the 10-page decision made by Judge Peter Thompson on Christmas Eve, there was not "clear and convincing" proof that any claimed irregularities affected the outcome of the vote, Fox10 Phoenix reported.
Lake said on Twitter that she would be appealing the ruling.
My Election Case provided the world with evidence that proves our elections are run outside of the law. This Judge did not rule in our favor. However, for the sake of restoring faith and honesty in our elections, I will appeal his ruling.

— Kari Lake (@KariLake) December 24, 2022
The whole decision of Judge Thompson is provided below:
You can watch a video on the subject here: