Hundreds Arrested as Protests Turn Violent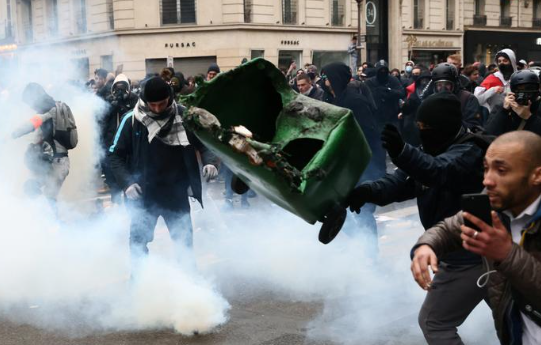 French Prime Minister Elisabeth Borne and President Emmanuel Macron announced their intention to raise the retirement age in their country from 62 to 64 years old, in January, prompting a large protest in the streets of France. Notwithstanding the opposition of French citizens across the nation, the PM was reportedly adamant on making the move. A protest against the proposal drew over a million participants.
On March 24, the situation in the European nation remained tense. They really became worse. Gerald Darmanin, France's interior minister, reportedly told France 24 that 457 individuals were detained during recent protests. In particular, he claimed that approximately 900 fires were started in the streets of Paris during the rallies, and that disguised infiltrators damaged surrounding windows. 441 security personnel were hurt nationwide as a result of the mayhem.
A general strike was called in France today.

And well over a million people are in the streets at over 200 protests across the country.

Teachers, transport workers, garbage collectors, and gas and electric workers and more are all on strike today.

pic.twitter.com/ECwkptGJ33

— Stop Cop City (@JoshuaPHilll) March 23, 2023
The situation outside of Paris wasn't much better. According to France 24, demonstrators in Bordeaux set fire to the building's entryway, a decision that the city's mayor, Pierre Hurmic, deemed difficult to comprehend. It appears that King Charles III will be visiting Bordeaux shortly, making the commotion there all the more alarming.
As Macron made good on his vow to restructure the nation's pension system, protests erupted in France. The president utilized a provision in the French constitution to unilaterally enact the change instead of going through parliament for a vote. Millions of French citizens were outraged by the forceful power display, and have been protesting and going on strike for months as a result.
The protesters, according to retired Frenchman Michel Doneddu, are sick of a president who "doesn't listen" to the French people. According to Doneddu, Macron acts as though he is the only one who understands what is best for the nation, but he is not. Yet according to reports, Macron claimed he has "no regrets" about his choice to raise the legal drinking age. He claimed that the action is precisely what France needs.