Gov. Abbott Takes Action to Enlarge Texas Border Wall with Mexico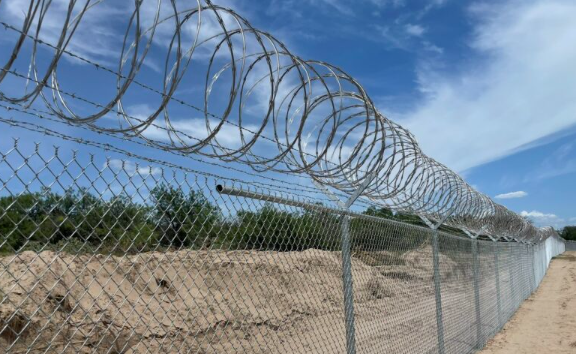 Texas Governor Gregg Abbott has ordered that the barbed wire fence between Texas and Mexico in the El Paso area be reinforced with shipping containers, making it harder to climb under or over. This means that Texas's state border wall with Mexico has just gotten "ten feet taller," as Trump might say.
In a letter to Breitbart Texas, representatives of the Texas Division of Emergency Management (TDEM) stated the directive as follows:
"At the direction of Governor Abbott, almost a dozen containers have been initially placed, along with over a mile of fencing, in locations in the El Paso sector as determined by the Texas Department of Public Safety and the Texas National Guard, and they will remain as long as necessary to impede the flow of illegal immigrants into Texas communities."
As part of Governor Abbott's Operation Lone Star, the Texas National Guardsmen have already built triple-layer concertina wire fencing. The construction of the shipping containers was ordered by Abbott after El Paso Mayor Oscar Leeser declared a disaster and asked for state and federal assistance to address the illegal immigration crisis.
In an effort to reduce the number of new migrants entering the US through the southern border, the Texas government, at the direction of Governor Greg Abbott, has constructed 2 miles of new border fence in the El Paso region.
According to Border Report, the citizens of El Paso are already benefiting from this new initiative to increase the security along the border. On their website, Julian Resendiz posted the following.
"The guard began setting up the barrier last week at a gap in the border wall west of the Paso del Norte port of entry. In the space of eight days, the barbed wire has nearly reached a second port of entry and chain-link fence anchored by sandbags extends even farther. The result is that asylum seekers can no longer walk across ankle-deep water in the Rio Grande and turn themselves in to waiting Border Patrol agents in that area."
First Sgt. Suzanne Ringle, a border patrol agent herself, said in an interview that the additional fencing has made a huge difference.
The disparity is significant. We had significant groups of families and individuals trying to cross on the 19th, 20th, and 21st. Right now, the area outside resembles a ghost town.
The federal government has been clamoring for assistance from the Border Patrol, and it seems that Texas' state leadership has had enough of waiting.
As the Texas National Guard has stepped in to support Border Patrol, Ringle claims that the presence of Humvees and a continuous patrol of troops at the border has also helped to stem the flood of migrants.

Here is a video of Trump saying that the border wall should be "ten feet taller" in recognition of someone finally volunteering to build one: