FBI Accused Of Violating Free Speech Rights In Alarming Move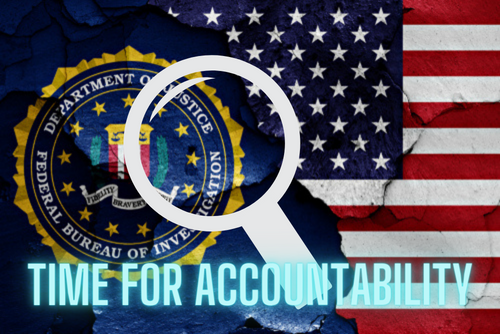 Constitutional experts suspect that by pressuring Twitter to restrict free expression, the FBI may have violated the First Amendment of the American Constitution.
Legal professionals now advise that the FBI should be held accountable for interfering with Americans' right to free expression and taking a political position.
The Twitter Files, which journalist Matt Taibbi received from Twitter's new CEO Elon Musk, were published last week.
Elon Musk caught the FBI in bed with Twitter and exposed it for the whole world to see.

I love New Twitter.

— Collin Rugg (@CollinRugg) December 6, 2022
Yoel Roth, the former director of safety at Twitter, met with representatives from the DHS, FBI, and Director of National Intelligence to talk about preventing the spread of misinformation ahead of the 2020 presidential election.
According to screenshots Taibbi released of Twitter's internal communications, a law enforcement agency coerced Twitter into taking action against two tweets regarding voter fraud.
Following the FBI's request, Twitter added a label beneath one of the posts urging readers to learn more about how secure voting is in the United States.
The recently made public images also showed that Nick Pickles, Twitter's current policy director, spoke with a staff member about the company's efforts to combat misinformation in partnership with the FBI and DHS.
Additionally, Jim Baker, the former deputy general counsel of Twitter, joined the company after holding a contentious post with the FBI.
The Trump-Russia collusion thesis Baker espoused while working for the FBI helped him gain favor with Twitter's liberal users, which led to him being hired by the social media site.
It wasn't just Twitter that sabotaged the disclosure of Hunter Biden's corruption.

It was Democrats in Congress. It was FBI leadership. It was members of the intelligence community.

There is a much larger story here than just the Twitter files. pic.twitter.com/aJqTqmIzFj

— Senator Ron Johnson (@SenRonJohnson) December 7, 2022
Baker was let go by Elon Musk earlier this month due to his alleged role in the repression of free expression. Baker's actions impeded the public discussion of a number of topics.
The FBI's controversial role in stifling free expression has raised many questions, but the White House insisted it never forced Twitter to block any content.
Prior to Baker's termination by Twitter, no representative of the Biden administration spoke with him, claims the White House.
According to White House press secretary Karine Jean-Pierre, as private businesses are independent to decide who to hire and fire, the government was not involved in controlling the social media behemoth.