DeSantis SHREDS the FBI After BOMBSHELL Durham Report Findings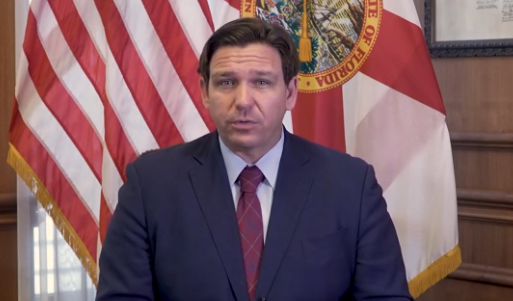 Florida Governor Ron DeSantis recently expressed his favorable views on his association with former President Trump in a recent memoir. A significant factor that fostered their connection was DeSantis' forceful arguments against the media's unsupported claim of "Russia-collusion." As a congressman at the time, DeSantis firmly believed that there was no foundation for the allegations.
Although investigations into Russia's attempts to influence the 2016 election were crucial, there was no concrete evidence to suggest collusion between Trump and the Kremlin in manipulating the election's outcome. The perpetuation of such unfounded accusations cast a shadow over Trump's presidency, resulting in constant suspicion and implications of his legitimacy.
DeSantis demonstrated early recognition of the situation and frequently voiced his opposition to the accusations, as well as the media's enthusiastic involvement in promoting them. Trump valued the Florida governor's position on this matter, which contributed to their political partnership. However, their alliance is currently experiencing strain due to DeSantis posing a political challenge to Trump's future aspirations.
The recent revelation of the FBI and DOJ's inadequate and narrow-minded response to the investigation into the allegations of Russia collusion serves as a reminder that significant changes need to be made within these organizations. DeSantis has displayed a readiness to dismiss or terminate bureaucrats or officials whom he perceives as being factually incorrect or violating their sworn duties.
It is crucial to scrutinize the leadership of the FBI, hold them responsible for their mistakes, and compel them to provide a thorough explanation of why their proposed "reforms" are satisfactory given the gravity of this scandal. Numerous Americans are demanding justice and transparency, which will resonate with them more than the media's attempts to suppress or downplay the story.
'Clean House:' DeSantis Rips 'Weaponized' Feds Over Durham Probe Findings https://t.co/NodpjHNR4h pic.twitter.com/uyAxdmeoWx

— DeSantis News (@DeSantis_News) May 16, 2023
The Durham Report confirmed what we already knew: weaponized federal agencies manufactured a false conspiracy theory about Trump-Russia collusion. It reminds us of the need to clean house at these agencies, as they've never been held accountable for this egregious abuse of power.

— Ron DeSantis (@RonDeSantis) May 15, 2023
Statement on Report by Special Counsel John Durhamhttps://t.co/lcow0ea3mG pic.twitter.com/T4vXqoOMrp

— FBI (@FBI) May 15, 2023
I think part of their calculation is that this could not happen to a Democrat because they would simply not allow it to happen — nor would the press. https://t.co/4rIXwX78AR

— Guy Benson (@guypbenson) May 16, 2023
There is additional reason to be worried about the way the IRS has handled the tax-related investigations involving Hunter Biden. A whistleblower has claimed that the entire team working on the investigation was removed, potentially impeding a congressional inquiry. Surprisingly, the media and Justice Department appear uninterested in reporting on the matter or holding the agency responsible, which gives rise to doubts about their trustworthiness. If a similar situation had occurred during a Republican administration, there would likely have been a widespread frenzy of criticism and scrutiny.
The diminished credibility of the press and the Justice Department has eroded public trust in these institutions. It is imperative to conduct a comprehensive investigation into their actions and hold them accountable. If similar tactics were employed against a prominent Democrat, the media would likely uncover the scheme and change the narrative.
However, during the Trump administration, the scandal was characterized by unverified and baseless accusations. The American people are calling for justice and transparency, which will inevitably result in a significant overhaul within these institutions.