Dem Senator Gives Away the Game on Suppressing Speech, Including Scary Take on 1st Amendment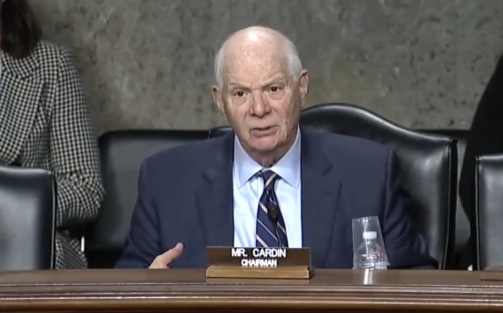 There has been a great deal of ignorance of the Constitution, particularly on the part of Democrats, who often feel that it stands in the way of their attempts to exert authority.
I previously reported on Rep. Adam Kinzinger (R-IL), who opined that the 5th Amendment might be invoked to justify guilt. It's quite alarming to hear a politician express such strong opinions about the Constitution, which he has pledged to preserve yet doesn't appear to comprehend.
But it gets worse with the new lawmaker entrant in the "We don't understand the Constitution" brigade — Sen. Ben Cardin (D-MD).
Since 2007, Cardin has served as a senator. He is a senior member of the Senate Foreign Relations, Finance, and Environment & Public Works committees and serves as chair of the Small Business & Entrepreneurship Committee. Since 1967, he has been active in politics in Maryland, and in 1987, he was elected to the House of Representatives of the United States. On his website, he also states that in 1967, he earned the top grade in his class at the University of Maryland School of Law.
After serving in Congress for 35 years, one might assume that he would be familiar with the Constitution and the First Amendment. however, not really. This man says some really terrifying things.
.@SenatorCardin: "If you espouse hate, if you espouse violence, you're not protected under the First Amendment. I think we can be more aggressive in the way that we handle that type of use of the internet." pic.twitter.com/t38Myy93ZI

— The Hill (@thehill) December 29, 2022
"If you espouse hate, if you espouse violence, you're not protected under the First Amendment," Cardin, wrongly, said. Then he made it much worse. "I think we can be more aggressive in the way that we handle that type of use of the internet. We know that Europe has done things. I think we have to learn from each other," he said.
This is categorically wrong. The First Amendment explicitly protects hateful speech, and it even protects speech that might mention violence, unless that speech is inciting imminent, lawless action. Didn't they teach anything at his law school? But, you don't even need to attend law school to know this. So, either he doesn't understand it. Or he doesn't care about the Constitution and is just lying to us to push the control that they want. Either way, it's very bad. Where are the Democrats to call out this "misinformation" on Twitter?
The Foundation for Individual Rights and Expression was among the many accounts to chastise Cardin.
There is no "hate speech" exception to the First Amendment. https://t.co/qoieTeFCy3

— FIRE (@TheFIREorg) December 29, 2022
After the reaction you would anticipate, Cardin attempted to fix it, but he only made it worse by continuing to show his incompetence.
"Although the First Amendment protects even hateful speech, if that speech motivates someone to commit a crime, engage in violence, or take action that infringes on someone else's right, that speech is not protected under the First Amendment and there must be accountability," wrote Cardin.
No, again, unless the speech is made with the intention of provoking impending, illegal behavior and is likely to do so. Thus, what he said is incorrect.
Who decides what constitutes "hate speech"? According to Cardin, the government should decide that. He reveals the plan and makes it obvious that speech will be attacked, using "hate" as a justification. They are no longer even concealing their desire to silence speech. And Cardin cites Europe, which has already taken that perilous path and is a cauldron of human rights violations. We should all be terrified if he wants to study them and learn from them.
Language of tyrants. Ban hate speech then start moving the goals on what is hate speech until criticizing your political opponents is hate speech. Or the UK where they will arrest you for insulting someone on social media. https://t.co/Dnz515rtH8

— Hank Venture (@HankVenture5) December 29, 2022