Dem Rep. Katie Porter Under Fire For Treatment Of Veteran Fellow As Former Staffer Decries Culture Of Fear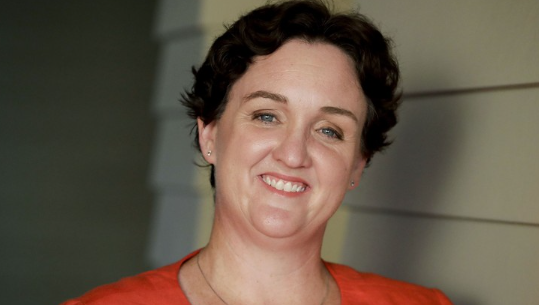 A female staff member has been permanently barred from Rep. Katie Porter's (D-CA) congressional office for failing to take the COVID-19 test, according to text messages that were disclosed on Thursday. In the course of the conversation, Porter continued to accuse the staff member of giving her COVID-19, refusing to let her pick up her personal belongings in person, and displaying no concern for the tragedy the staff member was going through.
It was a "mask-off" moment for Porter, who has amassed quite the fan base among liberals who adore whiteboards and consider cheap grandstanding during hearings to be a sign of brilliance. But the staff member's identity made the situation worse.
Sash Georgiades, a Wounded Warrior Fellow serving as a veteran liaison in the congresswoman's office, was later identified as the individual Porter had treated like absolute filth. Georgiades claims that they stopped speaking after Porter reprimanded her and expelled her from the workplace.
We need to be backing up our gratitude for veterans with action. I sat down with our office's Veteran and Servicemember Liaison, Sasha, to discuss some of my bipartisan projects that'll help veterans, including my bill to help veteran-owned small businesses get federal contracts. pic.twitter.com/0mpP6DoPgN

— Rep. Katie Porter (@RepKatiePorter) July 24, 2022
All of that was awful enough, but a recently discovered video has managed to significantly worsen the situation. Georgiades and Porter make an appearance in it, with Porter making the point that "we need to be backing up our gratitude for veterans with action." What is the main issue? The footage was released two weeks after Georgiades was savagely fired from her job and accused of giving Porter COVID-19.
It's fairly horrifying when you put it all together. Porter handled Georgiades poorly, ejecting her from the workplace permanently and blaming a staff member for providing her with COVID-19 (something Porter couldn't possibly know). However, two weeks later, Porter uploaded a previously shot video with Georgiades boasting about the congresswoman's purported care for veterans.
There's something psychopathic about that, especially when Porter allegedly never got in touch with Georgiades to express regret or to give an explanation for her actions. Normal people don't abuse their workers only to utilize footage of them for what amounts to self-promotion.
Porter appears to have cared nothing about what transpired or felt any regret at all; otherwise, she would have at least pulled the film in order to stop Georgiades from being further taken advantage of. However, she still circulated the video as if she hadn't expelled the veteran from her workplace on flimsy, self-serving grounds.
Are all politicians in Washington like this? I definitely hope not, but it wouldn't surprise me if the majority did. Porter yet seems to be a unique breed of pompous elitism blended with utter mediocrity.