China's Military Buildup On South China Sea Islands Threatens US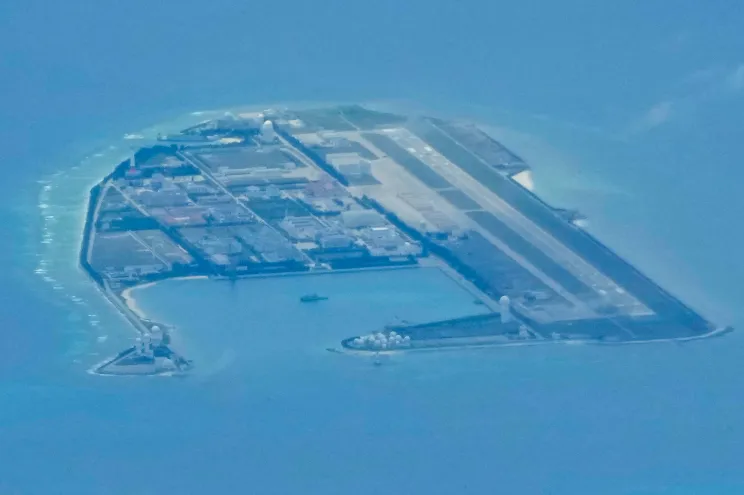 A top US military general claimed over the weekend that China has armed at least three islands it has created in a disputed part of the South China Sea with anti-aircraft missile systems, fighter jets, and laser and jamming equipment, a development that threatens all other nations in the region.
The US Indo-Pacific Command's commander, Adm. John C. Aquilino, told the Associated Press that Beijing's military buildup is the largest since World War II.
China has described its activities as defensive in nature, claiming that they are necessary to maintain its sovereignty in the region. According to the report, China, which has the world's second-largest defense budget after the United States, is modernizing its military with hypersonic missiles, a J-20 stealth fighter, and two aircraft carriers, one of which is under construction.
Onboard a Navy reconnaissance aircraft that received a warning from China after flying near Beijing-held outposts in the South China Sea's Spratly archipelago, Aquilino was interviewed by the Associated Press on Sunday.
Multi-story buildings, warehouses, hangars, seaports, runways, and radar installations could all be seen from the P-8A Poseidon as it flew around 15,000 feet above the islands.
Military installations on Mischief Reef, Subi Reef, and Fiery Cross appear to be finished, according to Aquilino, but it's uncertain whether China will continue to build in other regions. Near Fiery Cross, more than 40 vessels were reportedly anchored.
Aquilino pointed out that civilian and military planes might easily fly within range of missile systems on the islands in the disputed waterway.
China began constructing outposts on the islands approximately ten years ago to strengthen its South China Sea territorial claims.
As part of a mission it calls freedom of operation, the US dispatched ships to the region to ensure unrestricted traffic in the international waterway, which China views as a provocation.
The Philippines, Vietnam, Malaysia, Taiwan, and Brunei all claim a piece of the sea, which transports $5 trillion in products every year.