Chaos Erupts As LA Vote To Ban Homeless Encampments Near Schools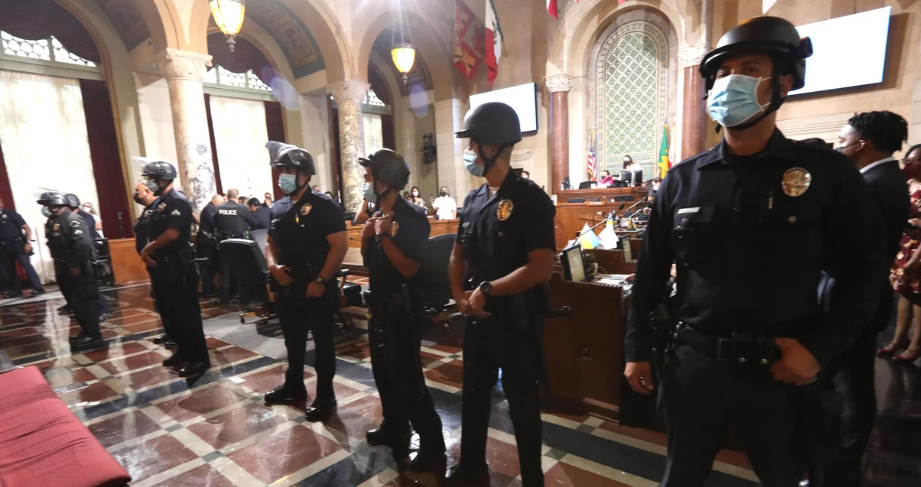 At a Los Angeles City Council meeting on Tuesday, chaos broke out as demonstrators got past a security barrier and approached elected officials after they voted to outlaw homeless camps close to schools.
An altercation between demonstrators and police resulted in three police officers being hurt and more than 100 individuals being told to leave the city council chambers, according to the Los Angeles Police Department. One individual was detained for removing a person from a police officer's legal custody and resisting detention.
The rally, according to Councilman Paul Krekorian, was an assault that included verbal threats against politicians.
Crowd is staying and chanting. All of City Council left except for Councilmembers Raman, Harris-Dawson, and Bonin (who have previously voted against the expansion of 41.18). LAPD also lining the side of City Council chambers pic.twitter.com/Whmvd9P2xf

— Jon peltz (@JonnyPeltz) August 9, 2022
The incident happened when several protesters came up for a public hearing before the city council voted to prohibit homeless camps within 500 feet of daycare and school facilities. Council members voted 11-3 to adopt the rule, adding a statute that also outlaws homeless encampments near libraries, freeway overpasses, and other areas.
The protection of children, especially those who walk to school and must pass through encampments where drug use, sexual activity, and mental illness are common, is vital, according to the ordinance's proponents.
The law has been criticized by protesters and advocates for the homeless as being an attack on the homeless. They contend that if encampments were prohibited near schools, roughly 20% of the city would be divided and that policymakers should instead give more permanent homes to lessen encampments.
On Aug. 2, during a municipal council meeting, protesters had earlier interfered with a vote that had been taken on the ordinance.
The discussion on Tuesday was tense from the beginning. As the council members entered the chamber, members of the public yelled profanities at them. The audience jeered back at council president Nury Martinez as he urged them to mature. And when Councilman Curren Price attempted to lead the Pledge of Allegiance, the crowd booed him.
When a black female audience member clambered over a bench and reached the city council dais, cursing at politicians, police were called. Martinez was confronted by the suspect, who was stopped by authorities, according to the police.
After the chamber was evacuated, the lawmakers returned and the ordinance was approved. The new regulations will outlaw sitting, laying down, sleeping, and storing anything within 500 feet of each public and private school.