Biden's Trip to Florida Was A Little Bizarre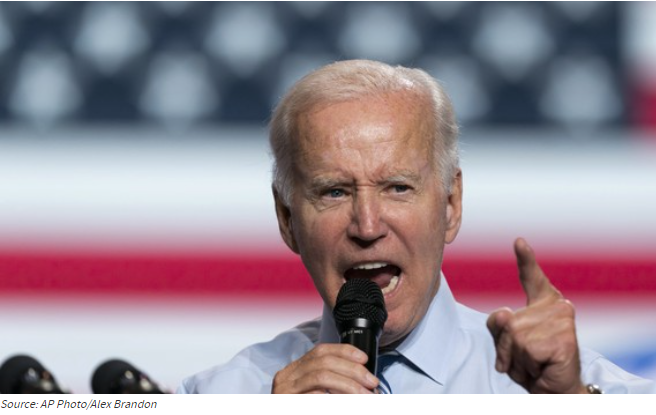 President Biden spoke with media and first responders assembled in Fort Myers on Wednesday to assess the damage caused by Hurricane Ian. He said some standard things as well as some unusual things.
BIDEN: Governor DeSantis has done a "remarkable" job in responding to Hurricane Ian. pic.twitter.com/GwbKjVd4A9

— Townhall.com (@townhallcom) October 5, 2022
President Biden praised Governor Ron DeSantis for his administration's preparation for and reaction to the storm, defying the mainstream media and many Democrats who have attempted to blame DeSantis for the destruction wrought by Ian because of the (R) that appears next to his name. In the midst of houses that had been wrecked and boats that had been battered by Ian's wind and storm surge, Biden observed, "What the governor's done is pretty remarkable."
BIDEN: "I think the one thing this has finally ended is the discussion about whether not there's climate change, and we should do something about it." pic.twitter.com/8mj2nLUisU

— Townhall.com (@townhallcom) October 5, 2022
However, as usual, the president quickly veered off course and began discussing global warming and preaching—while in Florida—about how the Colorado River now resembles a stream and that there is much going on. Biden then said that Hurricane Ian's devastation and deaths in Florida, together with other recent natural occurrences, put an end to the debate over whether or not there is climate change and whether or not we should take action to address it.
Of course, Biden made no mention of how American climate legislation would prevent thunderstorms from growing into hurricanes as they move off the coast of West Africa.
Joe Biden: Ron DeSantis has "recognized this thing called global warming." pic.twitter.com/e7mdGFYJ5A

— Townhall.com (@townhallcom) October 5, 2022
In response to a question on what local, state, or federal officials might do to reduce the number of fatalities caused by storms like Hurricane Ian in the future, Biden once more babbled about how the largest thing governors have done is admit there is a thing called global warming.
Perhaps this explains why the Biden administration has done nothing to combat inflation, prevent leaving Americans behind Taliban lines in Afghanistan, or address rising crime. Apparently, according to Biden, expressing lip service to global warming is the biggest thing state leaders can do to protect the lives of their citizens from natural disasters.
Biden was captured in top form on a hot mic as reporters were herded back aboard a press van as he left Fort Myers and headed back to the White House. The president appears to say while shaking hands, "No one f***s with a Biden."