Biden Makes Unproven Claim That He Was A Civil Rights Activist During Selma Speech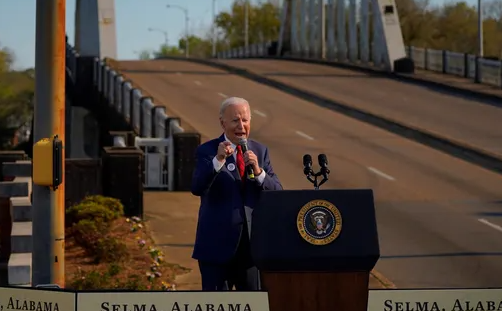 At a speech on Sunday in Selma, Alabama, President Biden made the unsubstantiated claim that he was a part of the civil rights struggle.
In honor of the 58th anniversary of the "Bloody Sunday" march, a crucial event in the 1960s civil rights struggle, the president paid a visit to the historic city.
"I was a student up north in the civil rights movement. I remember feeling how guilty I was, that I wasn't here. How could we all be up there, and you going through what you went through," Biden said in his address.
Yet, Biden's assertion is not supported by any historical data. Biden has previously asserted his involvement in the civil rights struggle in speeches.
Biden said that he took part in sit-in demonstrations in 1983 to end segregation in public areas.
"When I was 17, I participated in sit-ins to desegregate restaurants and movie houses. And my stomach turned upon hearing the voices of Faubus and Wallace. My soul raged on seeing Bull Connor and his dogs," Biden said.
Theophilus "Bull" Connor, a former head of Birmingham's public safety department, was notorious for employing police K-9s and fire hoses to disperse civil rights protesters.
Biden doesn't seem to have ever taken part in a sit-in. Throughout the 1980s, Biden has maintained that as a high school student, he left a restaurant because he felt unwelcome as a Black student.
Later, the former pupil disputed that assertion, claiming that Biden and other White pupils were "oblivious" to the circumstance.
While supporting the tenets of the civil rights movement, Biden acknowledged in 1987 that was "not an activist" during the 1960s.
"During the '60s, I was, in fact, very concerned about the civil rights movement. I was not an activist. I worked at an all-Black swimming pool on the east side of Wilmington, Delaware. I was involved in what they were thinking, in what they were feeling," Biden stated.