Biden Goes On Anti-gun Tirade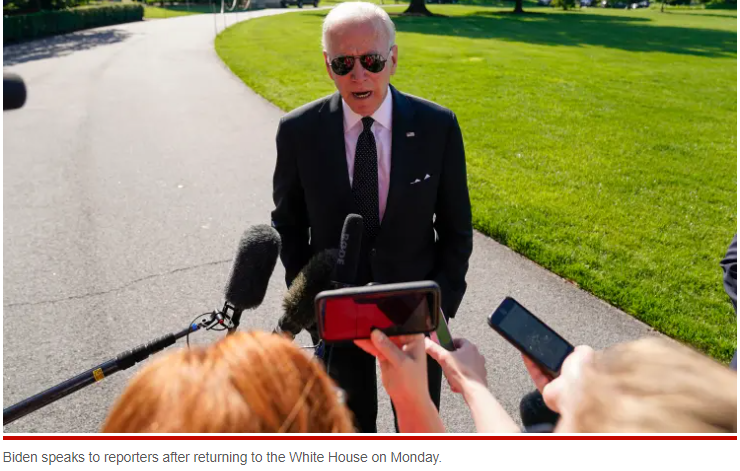 President Biden railed against the possession of "high-caliber weapons" on Monday, implying that the most popular handgun in America, the 9mm pistol, should be restricted, and repeating a disproved argument that the Second Amendment bars the ownership of cannons.
Biden detailed a visit to a trauma center in New York, where physicians showed him X-rays of gunshot wounds produced by various firearms, to reporters outside the White House after returning to Washington following a weekend that included a visit to the scene of last week's horrific massacre in Texas.
"They said a.22-caliber bullet would lodge in the lung, and we might be able to get it out and save the life." The lung is blown out of the body by a 9mm bullet. So the concept of these high-caliber guns has no reasonable basis in terms of thinking about self-defense or hunting," the president continued.
Biden appeared to rule out the potential of strong executive action on firearms later in his speech, adding, "I can't dictate this stuff." I can do what I've done, and I'll continue to take whatever executive action I can. But I can't make a weapon illegal. I can't modify the background checks, you know. That's impossible for me."
9mm pistols accounted for 56.8% of all handguns manufactured in the United States in 2019, according to Shooting Industry magazine. During the decade of the 2010s, this country manufactured about 15.1 million 9mm weapons. Conservatives and gun rights activists are unlikely to support the idea of prohibiting or otherwise restricting such weapons.
Despite tremendous public anger following the school shooting in Uvalde, Texas, and the racially motivated mass shooting at a Buffalo grocery store on May 14, Biden said he had not yet spoken with any Republicans about possible gun control legislation, but voiced hope for a solution.