Biden Causes a Stir With Creepy Pic!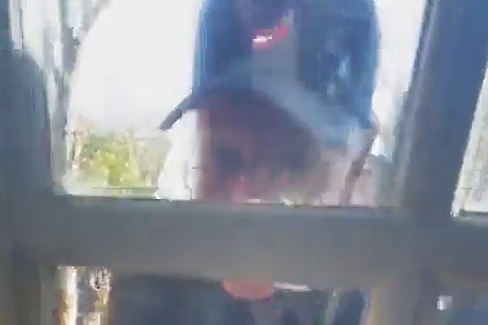 Over the Thanksgiving holiday, Joe Biden spent a week vacationing in Nantucket. While out shopping with other family members, he hasn't been doing well with the media. He sparked controversy, for instance, when he said he wanted to outlaw all semi-automatic weapons, which can include almost all modern firearms.
However, the Nantucket Current, which has been documenting Biden's visit, snapped the shot below during one of their outings in the town. The image attracted a lot of comments, many of which labeled it as "creepy," and it has since become a viral meme.
The president paused to greet his tiny admirers while he was shopping along the strip for Small Business Saturday while on Nantucket with his family for Thanksgiving.
"There's Joe! Oh my God, hi!," the sound of one of the kids shouting can be heard as the president cautiously strolls down Main Street while sipping his beverage through a straw.
Hearing their joyful cries, Biden halts in his stride and immediately moves toward the window and waves.
Biden carefully lifts his head toward the children while bending down to remove his sunglasses. This reveals his white teeth.
The close meeting with the president was criticized by several social media users as creepy.
"This is not normal. Stop trying to normalize this. If it was any other old man, you would all be freaking out, too," someone posted on Instagram.
"They used to call that a peeping Tom in my day!" another one said.
Others thought the exchange was adorable and uplifting.
"Love this! All of this. This is called leadership. The babies are so excited, cute, and happy,"  someone from Twitter posted.
"Awwwww so thrilling to see kids excited about the president!" said another tweet.
"The President who stops just to give some kids a smile that is what is Real President does. Thank you President Joe," another post reads.
A Biden photobomb via the Nantucket Current pic.twitter.com/RDlYmzlbj2

— Alex Thompson (@AlexThomp) November 26, 2022
Biden is branded 'creepy' for peering through window at restaurant to let kids take selfies with him https://t.co/51EZgw3ul7

— Daily Mail Online (@MailOnline) November 27, 2022
Here's the actual video, but truth doesn't matter anymore, not to the feelings crowd on the alt right: https://t.co/NTvOmC5mTB pic.twitter.com/VNeciJqT4Y

— Adam Kinzinger #fella (@AdamKinzinger) November 27, 2022