Ballot Box Watchers Just Got A Huge Victory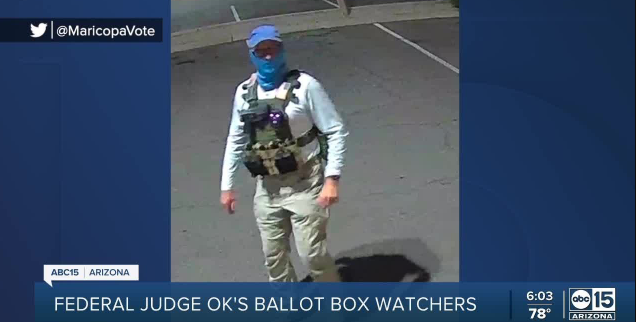 A federal lawsuit was filed in Arizona on Monday to prohibit members of the Clean Elections USA group from keeping an eye on the ballot boxes. Judge Michael Liburdi of the US District Court determined on Friday that constitutional issues prevented him from granting the plaintiff's request for an injunction to prevent spectators from viewing the ballot boxes. The judge said that no evidence was presented to show that Melody Jennings, founder of Clean Elections USA, or its members had engaged in any conduct that could reasonably be construed as threatening, or otherwise unlawful. Liburdi held that the First Amendment rights of individuals to speak and congregate do not extend to "true threats."
While Voto Latino, one of the plaintiff groups, was dismissed, the lawsuit is still pending. Arizona Alliance for Retired Americans, the last plaintiff, may retry to make its case for an injunction against the election monitors. AARA announced that they would immediately file an appeal and request emergency relief.
If you watch this, you will know why I say democracy is on the docket. pic.twitter.com/uz0eZAjWus

— Marc E. Elias (@marceelias) October 28, 2022
In his decision, Liburdi claims that Jennings' gang was motivated to form in order to watch the ballot drop boxes by the Dinesh D'Souza film 2000 Mules.
Liburdi pointed out that Jennings had given her group instructions to observe the law and to avoid interacting with or speaking to voters close to the voting booths.
Liburdi emphasized that Jennings' stated goal is to prevent unlawful ballot collection and voting, noting that there is no proof that Clean Elections USA attempted to prevent legal voting.
Following reports of persons legally carrying firearms, the Sheriff's Department is providing security around two Maricopa County voting machines. Mark Brnovich, the Republican attorney general of Arizona, has urged people to immediately report any intimidation to the police and to file a complaint with his office. Six complaints have been forwarded by the Arizona Secretary of State to the Arizona Attorney General's office and the US Department of Justice in the last week. Any abuses of voters' rights will be prosecuted, according to the US Attorney General's office in Arizona.
The legal team of Marc Elias has already appealed a case to the US 9th Circuit District Court.