Woman Isolates in Airplane Bathroom After Testing Positive For COVID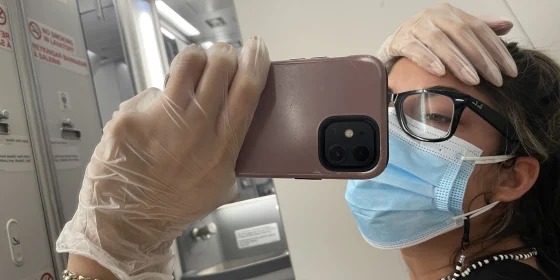 A Michigan schoolteacher says she was voluntarily sequestered in the plane's small restroom for the final five hours of the journey to Reykjavik after testing positive for COVID-19 through rapid test while on a travel to Iceland a few days before Christmas.
In a TikTok video that has been seen over 3 million times, Fotieo caught the scene of her voyage in the plane's tiny bathroom.
She tweeted, "Shout out to @Icelandair for my VIP quarantine quarters."
Fotieo reported her throat started hurting midway through her Icelandair journey out of Chicago on December 20. She'd taken along some fast test kits in case she needed them while on the road.
"I just took my rapid test and I brought it into the bathroom, and within what felt like two seconds there were two lines (indicating a positive test)," Fotieo stated.
Fotieo chose to spend the rest of the journey, which she anticipated to be five hours, alone in the airplane restroom.
Fotieo further stated, "There's 150 people on the flight, and my biggest fear was giving it to them."
Fotieo credited the attention of flight attendant Ragnhildur "Rocky" Eirksdóttir for helping her get through her time in the restroom.
In an email to NBC News, Fotieo stated, "She made sure I had everything I needed for the next five hours from food to drinks and constantly checked on me assuring me I would be all right."
Fotieo's trip to Iceland comes as the omicron strain of COVID-19 is on the rise, causing travel mayhem.
More than 1,100 flights in the United States were canceled on Tuesday owing to bad weather and personnel difficulties caused by the spread of omicron. According to the Centers for Disease Control and Prevention, the country also hit a seven-day average of more than 262,000 cases on Tuesday, with omicron accounting for an estimated 58 percent of the cases.