Watch First Lady Physically Try to Move Biden Away From Reporters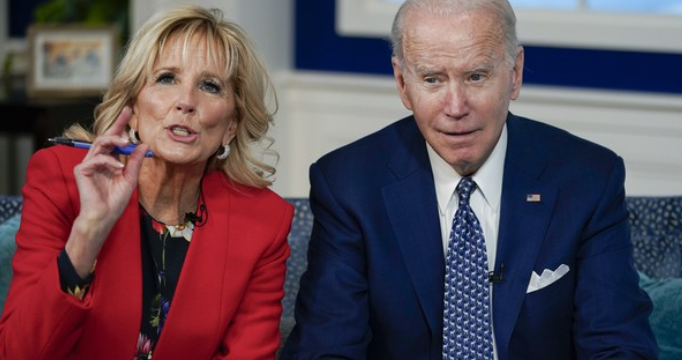 President Joe Biden sometimes spends weeks at a time avoiding the media and holds no formal news conferences while vowing to lead the most open government in American history. White House personnel tightly restricts access during events.
First ever in history, @FLOTUS physically moving the president backwards while he's speaking to the press. Incredible evidence of Biden's cognitive issues.

Its embarrassing pic.twitter.com/7soYHCTrjr

— The Sceptic (@Edthedawg) August 30, 2022
The government has been utilizing a covert pre-screening procedure to restrict media access to major events with President Biden. Nearly 70 journalists have requested White House press secretary Karine Jean-Pierre to end this practice.
Jill Biden drags Biden away from talking to reporters: "We gotta go!" pic.twitter.com/MJuItc1HJ9

— RNC Research (@RNCResearch) June 17, 2022
Only journalists with pre-credentials for engagements with Mr. Biden are permitted entrance to events, according to White House staffers. When journalists have asked for information on why they were not permitted to attend an event with the president, they have heard a variety of justifications, ranging from COVID-19 limitations to a lack of capacity in the venue.
"Nope. Like no more. No more questions," Biden's daughter and granddaughter pull him away from reporters. pic.twitter.com/cqrqgO1JQy

— Charlie Spiering (@charliespiering) June 20, 2022
Over the weekend, before boarding Air Force One, Biden stopped to meet with reporters. The First Lady went over in a hurry, agitated, and attempted to physically remove him from the conversation.
The Easter Bunny is forced to usher Biden away. pic.twitter.com/2VDxdGRCW7

— TheBlaze (@theblaze) April 18, 2022
She's done this several times previously. Family members also contribute.
And the Easter Bunny steps in to keep Biden away from reporters when the First Lady isn't available.