Texas Task Force Busts Catalytic Converter Theft Ring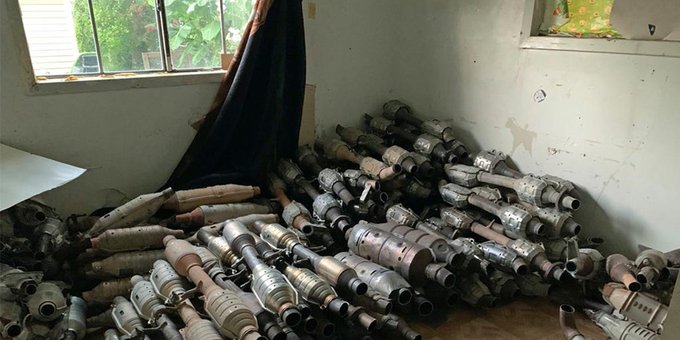 Last Monday, Houston police detained six people in connection with a criminal ring that had stolen Challenger Hellcats, guns, and catalytic converters valued about $12 million.
Immigration and Customs Enforcement claims that the long-running inquiry was sparked by the shooting murder of Harris County Sheriff's Deputy Darren Almendarez, who was protecting his catalytic converter when he was killed.
Houston residents Jose Martinez, 19, Armando Martinez, 18, Isaac Castillo, 21, Terance Elder, 20, Armando Martinez Sr., 39, and Dayton resident Jose Sanchez, 21, were detained for their suspected involvement in the theft ring.
According to the police, the offenders advertised pieces of the stolen cars online to advertise their purported catalytic converter business.
Martinez Sr. is accused of participating in organized crime; he was initially out on bond before being arrested again on two charges, each carrying a $75,000 bond, according to KHOU 11.
Martinez Jr. is accused with two counts of organized crime as well as other thefts. A $200,000 bail was imposed for him. Jose Martinez is accused of taking part in illegal behavior. He was also given a $200,000 bail.
Elder was given a $35,000 bail after being accused of committing a crime. Castillo and Sanchez are still being held, but no more information was given.
Due to the biggest demand for autos and replacement parts in years, catalytic converter thefts have increased recently, especially in the Houston region.