Texas National Guard Arrives At Southern Border In Riot Gear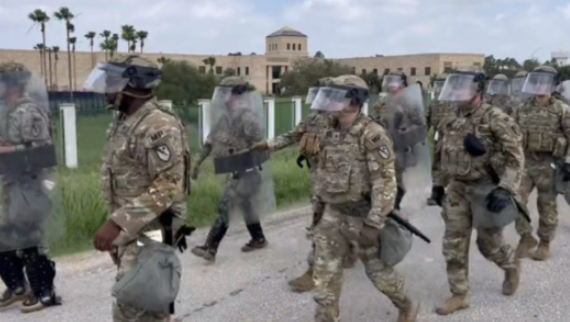 A striking video clip shared on Wednesday captures the arrival of Texas National Guard soldiers wearing protective gear at the southern border. Several cities along the border, such as El Paso in Texas, had previously declared a state of emergency due to the overwhelming influx of tens of thousands of migrants who gathered there in hopes of gaining entry.
In Brownsville, Texas, a video depicts a substantial group of National Guardsmen equipped with riot gear and ballistic shields as they are deployed to the border between the United States and Mexico. Another video captured the guardsmen obstructing a vast flow of migrants who were attempting to cross into the country through the Rio Grande River.
Earlier, President Biden had dispatched 1,500 soldiers to the southern border, but their role primarily involved transporting and processing the substantial number of migrants, rather than halting the influx.
Texas National Guard soldiers in riot gear are on the scene in Brownsville pic.twitter.com/onZdGwoSYW

— Citizen Free Press (@CitizenFreePres) May 10, 2023
On Wednesday, President Biden surprised the nation by rolling back an immigration policy from the Trump administration, but did not reverse the decision regarding Title 42.
Under Title 42, migrants encountered at the border were either sent back to their home countries or to Mexico. According to data provided by the US Customs and Border Protection, this policy has led to the expulsion of more than 2.8 million migrants at the US-Mexico border since its implementation during the COVID-19 pandemic.
Border authorities have issued a cautionary message highlighting the potential repercussions that could arise from the expiration of Title 42, expressing concerns that a staggering number of approximately 700,000 migrants may make concerted efforts to gain entry at the southern border. This worrisome prediction underscores the magnitude of the situation and the significant challenges that lie ahead for border control agencies tasked with managing such a massive influx of individuals seeking to enter the country.