Terrible Moment When A Small Child Is Kidnapped By A Monkey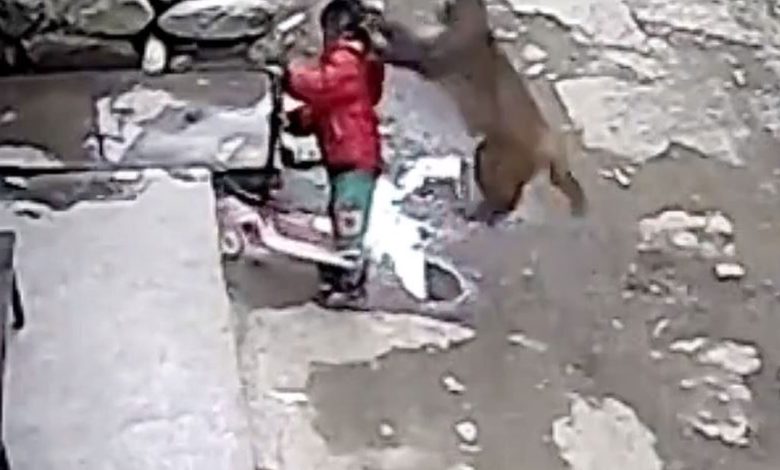 A toddler was abducted by a monkey and pulled away by her hair while playing outdoors on her scooter, according to shocking footage.
After being rescued from the violent attack in China's Chongqing Municipality on Tuesday, the unaware tiny tot was left with scratches across her face.
The monkey is seen sneaking up on the girl as she plays in the streets, pushing her to the ground and attempting to drag her away in the footage.
However, she was spared thanks to the acts of a vigilant spectator who grabbed the youngster from the animal's clutches before it could take her any farther.
The incident occurred as the girl's mother, Liu, was cooking inside, according to her.
Her next-door neighbors were the only ones who told her about the terrifying incident before she saw the dramatic CCTV tape for herself.
The enraged mother immediately reported the event to the police, who confirmed that the girl would be taken to a hospital for further treatment, including a vaccination.
According to reports from concerned neighbors, the monkey first arrived in the area in May of last year and was already known to police for attacking elderly people on several occasions.
According to local police, the tiny animal lives in the neighboring highlands and occasionally visits the residential area to cause havoc.
Despite several attempts to apprehend the monkey, the search has been fruitless. To safeguard residents, authorities have confirmed that once the monkey is caught, it would be turned over to the wild animal protection department.
Attacks by wild monkeys are sporadic, according to the local forestry authority, and measures are being made to prevent them from assaulting humans again.