Rep.Omar Slammed for Anti-Christian Tweet on Easter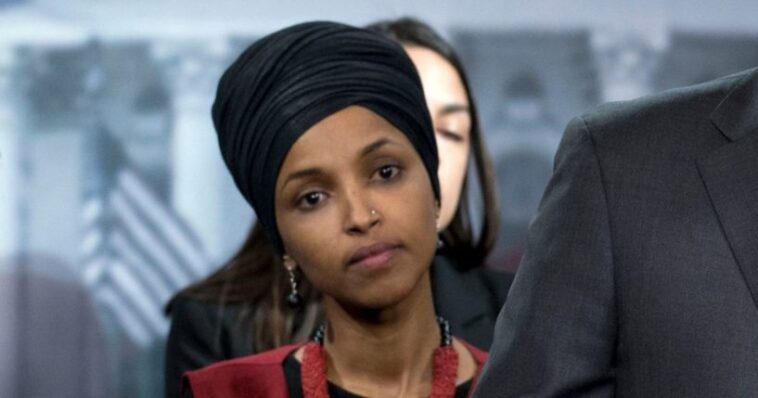 Rep. Ilhan Omar, an immigrant-turned-congresswoman who regularly exploits her citizenship and position to trash the country she fled from Somalia and its principles, is attacking Americans for acting in the same way as their forebears.
I think my family and I should have a prayer session next time I am on a plane. How do you think it will end? pic.twitter.com/5696Erwsl5

— Ilhan Omar (@IlhanMN) April 17, 2022
Ilhan posted a video of Christians praying for Easter on an airplane, with the caption:
"I think the next time I fly, my family and I should have a prayer session." What do you anticipate the outcome will be? "
Georgia Rep. Vernon Jones quickly responded to Ilhan and slammed her for her anti-Christian views, saying:
Ilhan, why do you despise Christians? If the religious freedom we have in America offends you, take your belongings and return to Somalia, Sudan, or wherever you came from. Bring your brother along.
Why do you hate Christians, Ilhan?

If the freedom of religion we enjoy here in America disturbs you, feel free to pack your bags and head back to Somalia, Sudan, or wherever you're from.

Take your brother with you. https://t.co/f2FZhWruz0

— Vernon Jones For Congress (@VernonForGA) April 17, 2022
"In America, Muslims can & do pray in public," tweeted another Republican candidate, Jose Castillo. "If she wants a country where Christians aren't permitted to do the same, [Omar] should go back to her own country," Ilhan said, referring to Somalia, a predominantly Muslim country.
"Qatar — a country you're quite familiar with – plays Islamic prayers on the intercom before takeoff on their planes," Cicely Davis, another Republican, tweeted. There is a designated prayer space, and Mecca coordinates are displayed on the screens. It's not a problem at all. The problem is that you despise Christians, Jews, and a large number of Muslims."
Vernon Jones' tweet's statement "take your brother with you" is a reference to the long-running allegation that Ilhan Omar married her brother.
According to what appears to be a conclusive DNA test, claims that leftist congresswoman Ilhan Omar married her own brother to get around US immigration laws may be validated.
According to the test's findings, Omar and her second husband, Ahmed Elmi, have a 99.999998 percent likelihood of being siblings.