GOP Rep Goes Off on Ilhan Omar on House Floor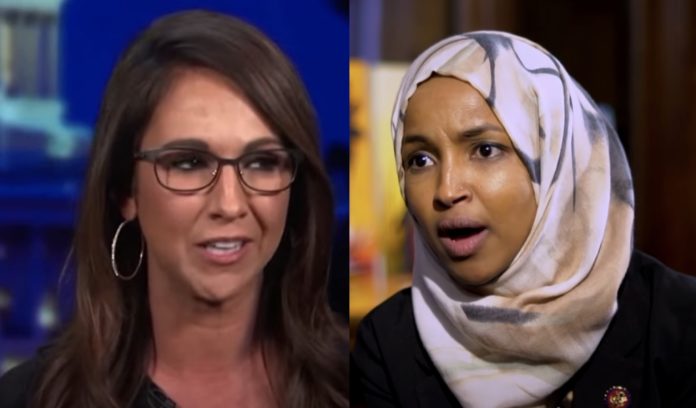 Ilhan Omar, Democrat Representative, was one of the first Muslim women to be elected to Congress. She is frequently criticized for her views that were deemed anti-Semitic or anti-Israel.
Lauren Boebert, a Republican Representative, called Omar a member of the "jihad-squad" during heated discussions about whether to censure Congress members for their inappropriate behavior.
"Democrat policies are so pathetic and have done so poorly that the left has nothing else to do but troll the internet looking for ways to get offended and then try to target members and strip them of their committees," Boebert said.
"This is a dumb waste of the House's time," she continued. "But since the Speaker has designated the floor to discuss members' inappropriate actions, shall we?"
"The jihad-squad member from Minnesota has paid her husband, and not her brother husband, the other one, over a million dollars in campaign funds," she continued.
"This member is allowed on the Foreign Affairs Committee while praising terrorists."
"A Democrat chairwoman incited further violence in the streets outside of a courthouse. And then the cherry on top: my colleague, and three-month presidential candidate from California who is on the Intelligence Committee, slept with Fang Fang, a Chinese spy," she added.
"Let me say that again: a member of Congress who receives classified briefings was sleeping with the enemy. This is unacceptable."
Boebert claimed that Democrats constantly seek out new ways to offend while hypocritically overlooking their own ineptitude.
The House of Representatives voted 223-207 in favor of the censure of Republican Rep. Paul Gosar. Gosar sent a controversial tweet that was later deleted. It made it appear like Gosar had posted a fake video to show how he would destroy Alexandria Ocasio-Cortez, Democrat Rep., and wave a sword at Joe Biden.
Democrats claimed that the animated clip encouraged violence.