Presidents Approval Rating Dips To Lowest Point In Latest Poll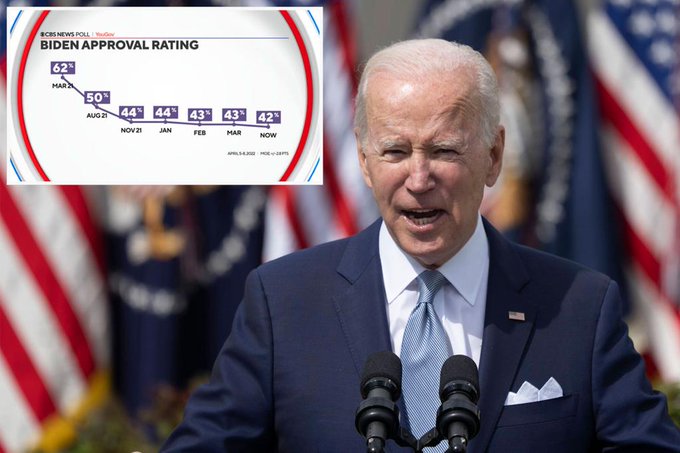 In a survey released Sunday, President Biden's popularity hit a new low, with only 42% of Americans approving of his job and 58 percent disapproving.
Biden's popularity rating is poor across all demographic categories, including ethnic minorities and young people, who traditionally favor Democrats.
People under the age of 30 overwhelmingly disapprove of Biden's performance, with 57 percent saying they disagree and only 43 percent saying they favor.
Biden is disliked by 54 percent of Hispanics and 33 percent of African Americans, with 22 percent of those who voted for him in 2020 also disapproving.
…and President Biden continues to get low marks on handling them. pic.twitter.com/GBLjBFbgqv

— CBS News Poll (@CBSNewsPoll) April 10, 2022
The early April survey's findings mirror a gloomy national attitude, as inflation and illegal immigration approach four-decade highs — with considerably higher rises projected — COVID-19-related limitations drag on, and violent crime continues high.
Biden's handling of inflation, which touched a year-over-year rate of 7.9% in February, was criticized by over 70% of respondents. Even among Democrats, 41% disapprove of Biden's approach to the issue of inflation.
Because the CBS poll polled US citizens rather than registered or likely voters, it's difficult to know how the results will affect the November midterm elections, which Republicans are expected to win.
Overall, Biden's approval rating has dropped somewhat, although statistically insignificantly. In February and March, 43% approval for Biden, but both numbers are within the 2.8 percentage-point margin of error in the most recent survey.
Biden received more votes than any other presidential candidate in history less than two years ago, because of a surge in voter engagement fueled by mail-in early voting and a tight race. However, following the tumultuous US pullout from Afghanistan, his support rating plummeted less than a year after taking office.
Biden's low support rating may exacerbate Democratic problems in the next midterm elections. Midterm elections are significantly biased against a president's party. Senate elections, on the other hand, are heavily influenced by the merits of a party's nominee and which states are electing senators that year. Despite losing the House, Republicans were able to capture two Senate seats and keep control of the upper house in 2018. On Election Day 2018, Donald Trump had a 43.5 percent approval rating.