Lawmakers Say Immigrants Taking Selfies To Celebrate Crossing Border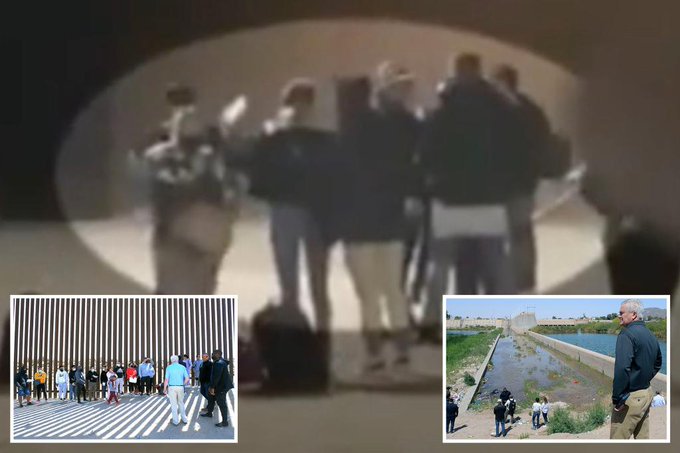 Members of Congress alleged this week that illegal immigrants crossing the US-Mexico border are taking photos to celebrate their arrival in the United States.
House Oversight Committee members were joined by Fox News Digital in Yuma, Ariz., earlier this week for a firsthand look at the growing illegal immigration problem at the southern border, which is only anticipated to worsen in the coming weeks.
One night while exploring the border region, the party allegedly saw at least two migrants snapping selfies while waiting for buses while Border Patrol officials looked on.
Rep. James Comer (R-Ky.) described the images as unacceptably fearless.
"They're violating the law by being here illegally," says the narrator. They're still snapping selfies with their Apple phones, Louis Vuitton purses, and Nike sneakers, and they're eager to be led to their next appointment. With the Biden administration, there are no penalties, which will just lead to more illegals entering the country, which will lead to more narcotics, crime, and human trafficking," he continued.
It wasn't immediately apparent where the migrants observed this week came from or where they were going.
While Title 42 — a health policy that allows Border Patrol officials to deport migrants without hearing asylum claims due to COVID-19 — is in effect until May 23, border officials and bipartisan lawmakers have warned that removing it will increase the number of illegal crossings that have already overrun towns and cities.
The number of migrant interactions by CBP along the southern border in March is expected to be significantly greater than in February, owing in part to the flow of Ukrainians fleeing Russia's invasion of their nation. Republicans, on the other hand, continue to criticize the Biden administration's policies.
The latest appearance of migrants in Yuma comes as the government goes through with many alternative-to-detention programs, including the distribution of smartphones to new arrivals, that they believe may assist monitor migrants.
CBP documented 164,973 migrant interactions along the southern border in February. According to recent projections, repealing Title 42 might result in an additional 170,000 cross borders.