Passenger Kicked Off Delta Flight For Wearing F Biden Sweatshirt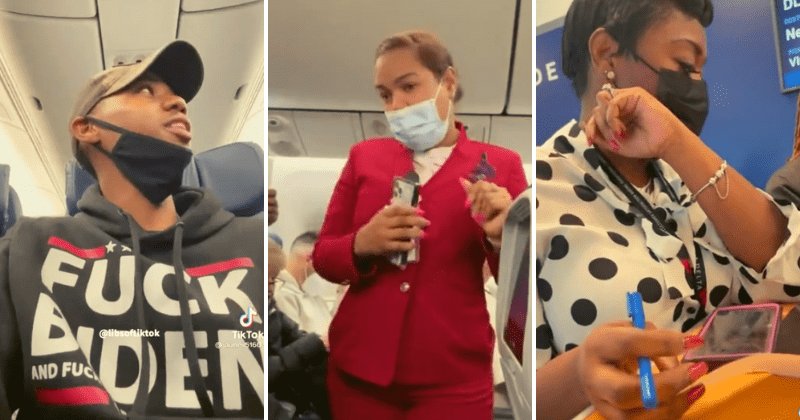 A Delta Airlines passenger captured video of an airline official kicking him off his aircraft and threatening him with a no-fly list if he didn't cooperate.
Because he was wearing a hoodie that said "F*** Biden." The Delta worker further clarified that he wasn't wearing a mask, but the hoodie was the focus of the passenger's TikTok videos.
He then tells the Delta representative that he needs to examine the policy in person, to which she responds that they may do so on a computer in the jetway. He then claims that under the First Amendment, he has the right to express himself.
Man was kicked off @Delta flight for wearing a shirt that's against Biden. They even threatened to put him on the no fly list. pic.twitter.com/6Dy3Sti8PH

— 🇺🇸Travis🇺🇸 (@Travis_in_Flint) March 9, 2022
The exact date of the meeting is unknown, but Brooks shared the first clip on Wednesday.
Delta released a statement Thursday saying that Delta has traditionally forbidden customers from using vulgar or insulting words or pictures, and their goal is that customers and employees treat one another with dignity and respect at all times. Nothing is more important than ensuring that everyone has a safe and polite travel experience. They apologized for any difficulty given to their customers as a result of the minor delay in departure.
Delta's Contract of Carriage also stated "Delta may refuse to transport or may remove passengers from its aircraft. When the passenger's conduct, attire, hygiene or odor creates an unreasonable risk of offense or annoyance to other passengers."
Delta, like many other airlines, has been in the news a lot in recent years because of problems between flight staff and passengers.