Largest Migrant Caravan Ever Aiming for Southern Border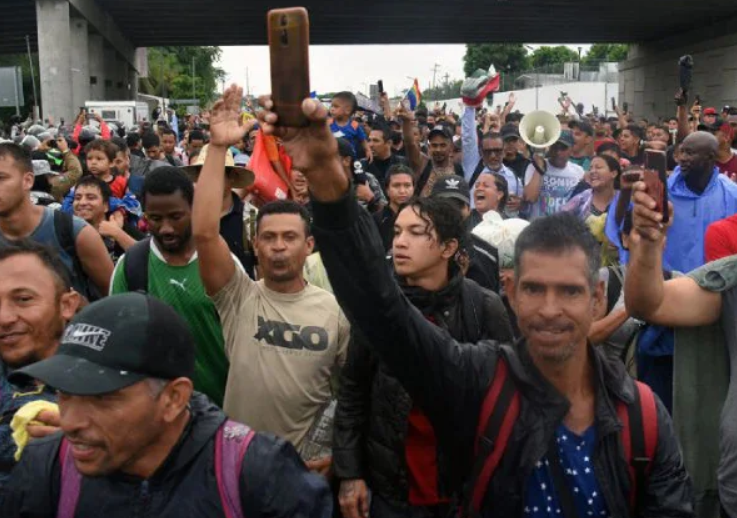 In Mexico, the biggest migrant caravan ever to reach the southern border of the United States has assembled and was set to start marching north on Monday.
Around 11,000 migrants assembled in Tapachula, a border city between Mexico and Guatemala, with the purpose of marching to the United States.
The caravan's size was projected to increase in the next few days, reaching 15,000 individuals.
The caravan's arrival occurred as the immigration flow under President Joe Biden accelerated.
In April, more than 234,000 migrants were apprehended at the southern border, surpassing the 22-year record of 221,000 the previous month.
U.S. According to figures from Customs and Border Protection, 73,994 interactions happened in December 2020, former President Donald Trump's final full month in office.
The top goal for Biden and Congress, according to Chris Chmielenski, vice president of NumbersUSA, should be to reinstate the Migrant Protection Protocols (MPP), often known as "Remain in Mexico," which were in effect under Trump.
Migrants who landed at the southern border were sent back to Mexico while their immigration cases were being processed.
Chmielenski is realistic about the fact that existing immigration policy will not change until Republicans retake control of Congress.
"We believe the high immigration levels puts a threat on both American workers and their wages because, we believe, a loose labor market results in lower wages and increased job competition for American workers, so it's harder for them to fight for increased wages as well as putting a strain on our sustainability and our natural resources."