Iran Unveils New Long-range Missile As Talks To Revive Nuke Deal Resume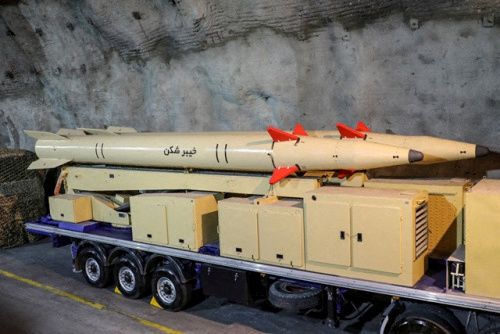 On Wednesday, state television announced that Iran revealed a new domestically produced missile with a range of 1,450 kilometers, a day after Tehran and Washington resumed indirect negotiations to rescue the 2015 nuclear deal.
Iran claims its ballistic missiles have a range of up to 2,000 kilometers (1,200 miles) and can reach its arch-rival Israel as well as US bases in the region.
The new surface-to-surface Kheibar Shekan (Kheibar buster) missile was unveiled on state television, with the name Kheibar referring to an ancient Jewish oasis in the Arabian Peninsula's Hijaz region that was overrun by Muslim troops in the 7th century.
Iran sees its missile development as a significant deterrence against the US, Israel, and other foes. It has refused to suspend its ballistic missile development in response to Western requests.
Saudi Arabia, a regional competitor of Iran's Shia-led government, has frequently urged global powers to address Gulf Arab worries about Tehran's missiles.
Israel, which the Islamic Republic does not recognize, has long threatened military action against Iran if the Vienna talks fail to stop Tehran from developing nuclear weapons. Iran claims that its nuclear ambitions are for peaceful purposes.
Then-President of the United States of America, Donald Trump, was elected in 2018. President Donald Trump pulled out of the nuclear deal, which was designed to prevent Iran from developing a nuclear weapon, and reimposed sanctions in an attempt to force Tehran into talks on a broader agreement that would have addressed Iran's ballistic missile program and support for Middle Eastern proxies.