Hundreds Of Migrants Attempt To Storm The Southern Border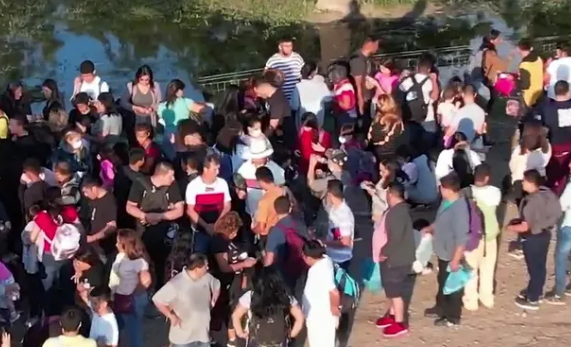 According to US authorities and footage of the incident, hundreds of migrants tried to rush the border and enter the US through the Paso Del Norte Bridge in Juarez, Mexico, on Sunday afternoon.
The group's entry was "temporarily" blocked by US Customs and Border Protection (CBP) using "port hardening measures," the agency said in a statement. Although the reason for the Sunday rush is unknown, there has been an unprecedented increase of migrant contacts at the southern border.
During the fiscal year 2022, CBP encountered almost 2.3 million migrants at the US-Mexico border, including more over 870,000 between October 2022 and January 2023.
BREAKING: Our contact in Juarez, MX tells us a massive group of at least 1,000 migrants just attempted to rush a port of entry in El Paso in an effort to get into the United States. Video shows them pushing past the Mexican side of Paso Del Norte bridge. Awaiting CBP comment. pic.twitter.com/lxriIB3TSm

— Bill Melugin (@BillFOXLA) March 12, 2023
The Biden administration has facilitated the flow of migrants through US ports during the flood. Many of them can utilize the CBP One phone app to request exemptions from Title 42 deportation, the Trump administration's public health edict designed to stop the spread of COVID-19.
Also, migrants are looking forward to the termination of Title 42 on May 11.
"CBP is working to maintain the legal and orderly flow of entry to the U.S. while protecting the safety and security of legitimate trade and travel, CBP facilities and the CBP workforce. The CBP response included the deployment of physical barriers to restrict entry. As of 5 pm there is no traffic processing occurring at PDN. Barricades were used at the Stanton crossing from 2 p.m. until 2:45 p.m. and at the Bridge of the Americas from 2:45 p.m. until 3:30 p.m," CBP commented on the incident in a press statement.
According to CBP, the Office of Field Operations Special Response Team and US Border Patrol agents have been sent to assist CBP employees.
The border city of El Paso, Texas, where President Joseph Biden made his first trip to the border in January, lies across the street from Juarez.
Large spikes in illegal crossings have occurred in the area recently, causing the city to request FEMA assistance and transport buses of undocumented migrants to New York City.