Hundreds Of Birds Suddenly Drop From Sky In Mexico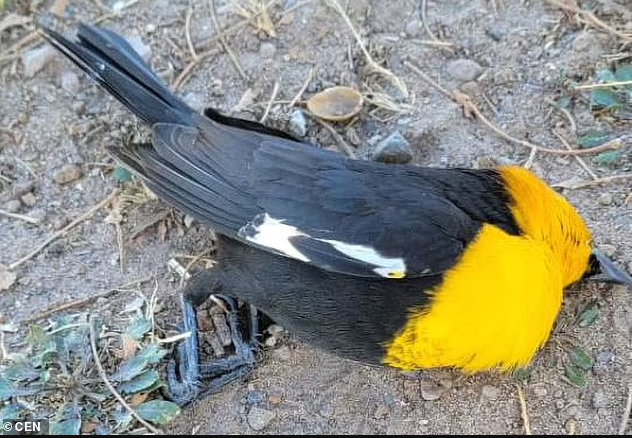 This is the moment hundreds of migratory birds inexplicably dropped from the sky in Mexico while in mid-flight.
Residents in the Alvaro Obregon district of Cuauhtemoc, a city in the state of Chihuahua, reported dead birds strewn across the pavement at around 8.30 a.m. on February 7.
The swarm of yellow-headed blackbirds abruptly drops to the ground in shocking footage that has gone popular on social media.
Many of the flock flew away, but scores of others were found dead on the street.
At around 5 a.m., local people noticed yellow-headed blackbirds dropping from the sky, which migrate south to Mexico in the winter.
Separate camera footage from the same day shows unmoving birds lying on a street while being swept into piles by someone with a broom.
A vet who inspected the dead blackbirds told El Heraldo de Chihuahua that they could have perished through inhaling toxic gasses, possibly from a heater, or from electrocution after roosting on electricity wires and overloading them.
On social media, some people thought that the occurrence was caused by a faulty murmuration.
Hundreds of birds, generally starlings, fly together and abruptly change direction to deceive predators in these massive formations.
Dr. Richard Broughton, an ecologist at the UK Centre for Ecology and Hydrology, said that while he couldn't spot a raptor in the clip, he was 99 percent certain that a predatory bird was to blame for the murmuration's plunge to the ground.
Some claimed that it was the 5G technology, while others said it was apocalyptic.
The deceased birds were collected and will be analyzed to determine their exact cause of death. They were located 620 miles away in Rubio, Mexico. The investigation is still underway.