Heritage Foundation Launches Fresh Lawsuit Against Biden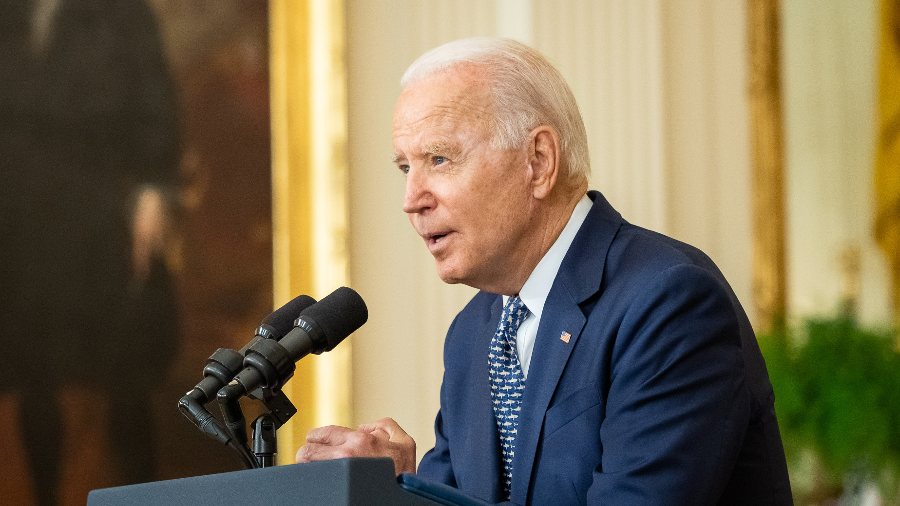 The Heritage Foundation sued the Biden administration for stopping its COVID-19 mandate for private employers. They called it a "gross misuse of power."
"The mandate clearly encroaches on the police power of states expressly reserved by the 10th Amendment [to the Constitution]," argues the complaint filed Monday in the U.S. Court of Appeals for the D.C. Circuit. The lawsuit adds: "It also exceeds the federal government's authority under the Commerce Clause."
Kay C. James, President of Heritage Foundation, and Kevin Roberts, the think tank's new president who takes up office Wednesday both made statements about the lawsuit.
"Dr. Roberts and I, along with the Board of Trustees, unanimously agreed The Heritage Foundation has a vital role to play in the courts to protect and secure the freedom of all Americans to make medical decisions for themselves," James said, adding:
To all of our members, to the conservative movement, and to Americans concerned by this unacceptable overreach by President [Joe] Biden and his administration, I say this — Heritage's leadership is united behind this lawsuit, and we are going to fight tooth-and-nail and send the message that our freedoms are not up for debate.
Heritage's court action was one of the most recent challenges to the mandate for vaccines, which has a Jan. Businesses and organizations employing 100 or more people must either require full vaccination or submit weekly coronavirus testing results. Heritage employs approximately 270 people.
The lawsuit was filed by the American Center for Law and Justice (a conservative legal organization) on Heritage's behalf. Heritage is the parent organization of The Daily Signal.
"The Heritage Foundation has not historically filed lawsuits," Roberts said in his own written statement. "That we are doing so now should make clear to any observer that we view this mandate as a deadly serious threat to our individual liberty and the values that make America great. Under my predecessors, The Heritage Foundation has stood rock-solid in defense of liberty, freedom, and opportunity for all, and it will continue to do so under my leadership."
Roberts continued:
I wish this lawsuit were unnecessary. I wish we had an administration in the White House that respected the Constitution and the rule of law.

From the unprecedented border crisis, to the disastrous Afghanistan withdrawal, to now this unlawful COVID vaccine mandate, it is irrevocably clear that this administration will stop at nothing — even harming Americans and our national interests — in pursuit of the most radical policy agenda in American history. Rest assured, we at Heritage are only just beginning to fight back. …

I am so thrilled to be leading this incredible organization at this pivotal time in our nation's history, and to be engaged in the trenches on the most important fights we've seen in a generation.
Biden authorized the Occupational Safety and Health Administration on Sept. 9 to require employers who employ 100 or more people to ensure that those workers are either fully vaccinated, or submit weekly results that show they do not have COVID-19.
"We're going to protect vaccinated workers from unvaccinated co-workers," Biden said in announcing the mandate.
The Biden administration contends that the mandate is necessary because too many Americans refuse to get vaccinated, and that OSHA has the statutory authority to impose the mandate.
Biden spoke Monday at the White House regarding the micron variant COVID-19. He said that the United States was doing its part and adding: "We can't stop until the whole world is vaccinated."
The Heritage Foundation joins with other employers and state attorneys General in bringing lawsuits against the Occupational Safety and Health Administration's emergency rule implementing this mandate.
"The ACLJ is honored to serve as counsel for The Heritage Foundation," said Jay Sekulow, chief counsel for the American Center for Law and Justice, in a written statement. "This case focuses on the serious constitutional issues raised by the Biden administration's employer mandate."
Implementing the mandate would include at least 84.2 million Americans who work for approximately 164,000 businesses. It could prove difficult and may rely on employees' spying on their bosses and coworkers.
New Orleans-based 5th U.S. Circuit Court of Appeals rescinded the Biden administration's Nov. 6 vaccine mandate, citing "grave statutory or constitutional issues."
The appeal court upheld it's earlier ruling and wrote that Biden's mandate to the vaccine is "staggeringly broad" and that it likely "violates our collective liberty-securing constitutional structure."
While litigation is pending, the Biden administration declared that it would not enforce this mandate.
Monday also marked another setback for the Biden administration when a federal court in Missouri halted the federal requirement for health care workers to be vaccinated in 10 states: Alaska, Arkansas, Iowa, Kansas, Missouri, Nebraska, New Hampshire, North Dakota, South Dakota, and Wyoming.
This requirement was established by a rule issued earlier this year by the Department of Health and Human Services. It is not part of OSHA's emergency regulation.
Another regulation was issued by the Biden administration's Office of Personnel Management which stated it would delay penalties for federal employees who failed to get vaccinated before the Nov. 22 deadline.