Helicopter Rescue Launched In The Mountains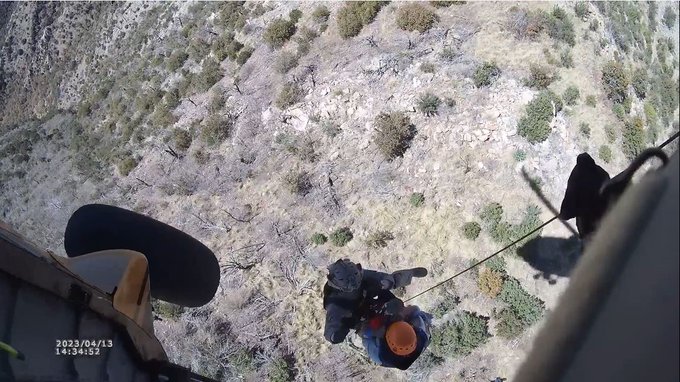 According to Breitbart News, agents from the Tucson Sector of the Border Patrol and CBP Air were on their way to the Huachuca Mountains to rescue a migrant lady who had gotten into trouble there. CBP AMO posted a photo of the agents lifting the unconscious woman onto the helicopter so doctors could examine her injuries and mental state en route to the hospital.
RESCUED! Tucson-based UH-60 & National Air Security Operations Center H125 crews partnered with #USBP agents to rescue an immobile, semi-conscious undocumented migrant in the rugged Huachuca Mountains. AMO agents hoist extracted & transferred the woman to a medical facility. pic.twitter.com/tyaQAJRe1l

— CBP AMO (@CBPAMO) April 21, 2023
A week ago, Border Patrol officials issued a warning to migrants being carried over the U.S.-Mexico border by human traffickers, outlining the dangers they face. Chief Patrol Agent John R. Modlin warned migrants of the harsh conditions they would face traversing the desert, including extreme heat and spotty mobile phone coverage.
Ajo Station agents patrol a large portion of southern AZ. The area is rural and the temperatures extreme. When crossing NW of Lukeville, AZ, migrants are in extreme danger. Attempting to traverse the desert can take several days and cell service is limited. Do not risk your life. pic.twitter.com/iwwmts2B4U

— John R. Modlin (@USBPChiefTCA) April 18, 2023
Crossing Lukeville, Arizona on foot is said to require a five-day, 101-mile trek to reach Interstate 8. As temperatures rise, the camera also documents the rising mortality toll.
There has been an upsurge in the number of migrants who have been detained at the border and then released into the interior of the United States since the 2020 election, when then-president Donald Trump lost to Joe Biden. In March, agents in Tucson detained 34,000 migrants, a 25 percent increase from the previous year and second only to the 40,000 detainees in the El Paso Sector.
It has been claimed that the rate of family units crossing has increased by 505% as summer approaches and circumstances worsen. Despite the fact that over 2 million illegal immigrants have been allowed into the country since 2021, 16,000 migrants were reported as escapees in March. Over the course of six months, 96,000 migrants were reported missing.
As of October 2022, when the Trump administration's use of Title 42 to deport illegals came to an end, Tucson agents had captured 146,301 migrants, a 19% increase from the previous year. The overall number of border crossers in the sector, including those who were apprehended and those who managed to escape, is 242,000.