GOP Lawmakers Slam House Dems For Gender-neutral Bathroom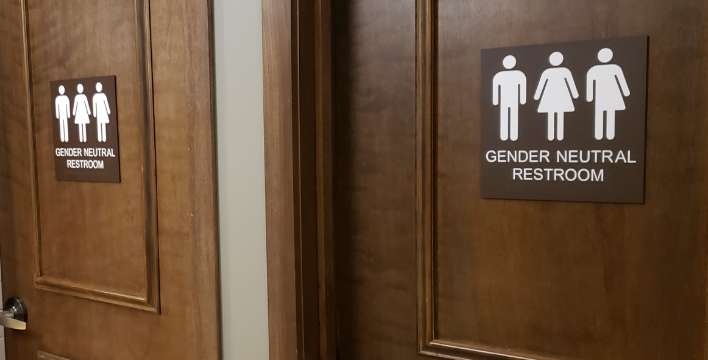 House Democrats have been chastised by Republicans for campaigning for gender-neutral toilets on Capitol Hill at a time when the economy is tanking.
On Tuesday, Assistant Speaker Katherine Clark, D-Massachusetts, and House Democratic Caucus Chairman Hakeem Jeffries, D-New York, signed a letter endorsing Capitol restroom repairs.
"All employees, interns, and visitors should have access to safe and comfortable restrooms," the lawmakers wrote to House Administration Committee chairwoman Zoe Lofgren, D-Ca. "For members of the transgender, gender nonconforming and disability communities, that often means the availability of single stall or single-occupancy restrooms. As lawmakers, we can more effectively represent our constituents when our staff and interns reflect the diversity of the American people."
The House Democrats' restroom drive, which comes amid historically high gas costs and growing inflation, has angered Republicans from the top down.
Rep. Austin Scott, R-Ga., had harsh words for his Democratic colleagues, claiming in a statement that the left is debating restrooms when our economy is in freefall due to their reckless spending.
In a statement to Fox News Digital, House Minority Whip Steve Scalise, R-La., blasted Democrats, saying that while inflation is costing the average American family $5,200 more per year, gas is now over $5 per gallon, and the markets have crashed, House Democrats are focused on changing the gender designation of bathrooms for themselves at the Capitol.
Scalise went on to claim that big-government socialists are completely out of touch with the problems of hard-working taxpayers who are trying to feed their families and even afford to drive to work. Speaker Pelosi and President Biden should get to work addressing the list of difficulties that they alone caused, rather than wasting millions of public dollars on Hollywood show trials attacking their political opponents and altering toilet gender designations in the Capitol.
House Democrats, according to Republican Study Committee Chairman Jim Banks of Indiana, are uninterested in anything that happens outside of Washington, and the bathroom drive is narrow-minded.
Ranking member Rodney Davis, R-Ill., Lofgren's House Administration Committee foe, described the blue leadership's restroom drive as the latest evidence of House Democrats' mistaken priorities.