Florida Gov DeSantis Blasts Biden For Trump House Raid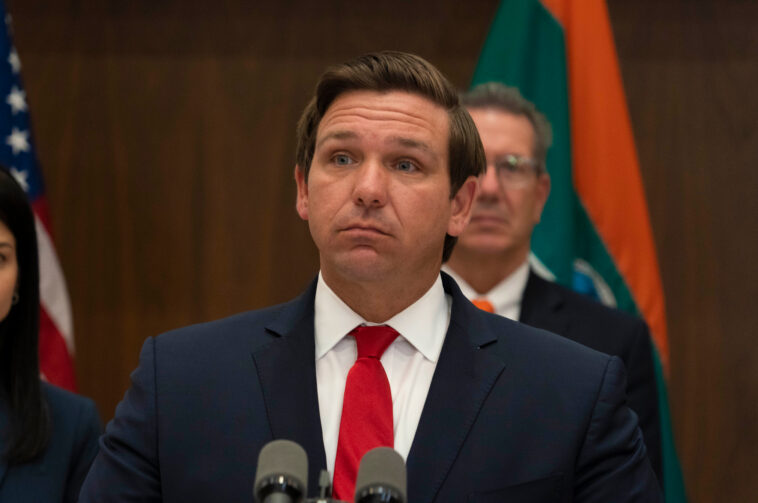 Florida Governor Ron DeSantis criticized the Biden administration after the FBI raided former President Donald Trump's estate at Mar-a-Lago and said that it had transformed America into a Banana Republic.
According to sources, this probe relates to sensitive information that Trump transported from the White House to Mar-a-Lago. It is rumored that the former president put off delivering more than a dozen boxes of records to the National Archives, among them were papers with the designation classified national security information.
However, it was astonishing to see how federal officers descended onto Trump's property, raiding and searching every nook and cranny as though he were a wanted felon.
DeSantis, who had had enough of this government, was shocked and promptly resorted to social media to confront the situation.
'Banana Republic': Gov. Ron DeSantis and other conservatives sound off after Trump says the FBI raided his Mar-A-Lago home https://t.co/N2zd5NjCHT

— TheBlaze (@theblaze) August 9, 2022
"The raid of [Mar-a-Lago] is another escalation in the weaponization of federal agencies against the Regime's political opponents, while people like Hunter Biden get treated with kid gloves. Now the Regime is getting another 87k IRS agents to wield against its adversaries? Banana Republic."
This government has repeatedly targeted Trump and everyone associated with him, questioning nearly everyone he knows in an effort to find criminal charges to bring against the former president. It is clear that the Biden administration's "Banana Republic" will continue to try to irritate the former president now that the law to boost the IRS headcount by tens of thousands has been enacted.
Ron is spot on!
https://t.co/8tnb4jI58g

— "The Way is in training." ~Miyamoto Musashi (@Tigerkenshin808) August 9, 2022
The so-called democratic party is now acting like the military is in charge of the US, repeatedly invading the private lives of Trump and many of his advisers.
In order to ascertain if any of this information were handled improperly by the Former President, federal prosecutors also launched a grand jury inquiry in May. Evidence demonstrating that the people engaged in removing the papers from the White House were aware that doing so would be illegal is necessary for the prosecution to establish that a crime was committed.
The Democrats appear to be eager to remove Trump as elections get near. Daily fresh unfounded charges are brought against the former president, and the Democrats have also shown how they intend to employ the 87,000 additional IRS hires by dispatching hundreds of agents to his home.