First Lady Hilariously Mocked Again Over Lame Apology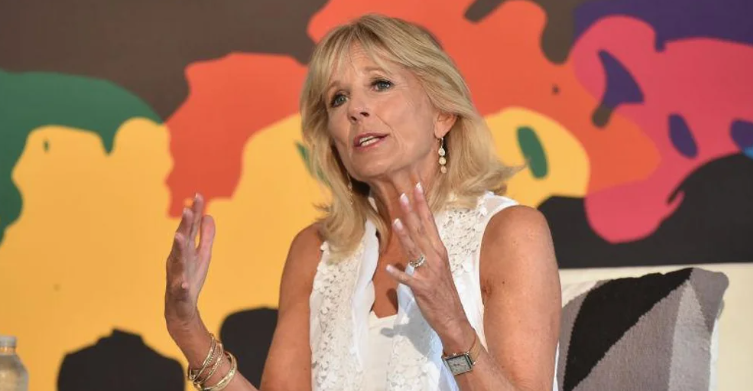 According to a tweet from her press secretary, Michael LaRosa, the first lady Jill Biden is sorry she treated Latinos to breakfast tacos at a Latinx Inclusion conference on Monday.
At the UnidosUS annual conference in San Antonio, Texas, Biden made a statement that drew mockery and ridicule: "The Latino community is as distinct as the bodegas—which she mispronounced as bogedas of the Bronx, as beautiful as the blossoms of Miami, and as unique as the breakfast tacos here in San Antonio.
"The First Lady apologizes that her words conveyed anything but pure admiration and love for the Latino community," LaRosa said in a tweet.
However, it does not appear that the first lady's feeble apologies, delivered through her press secretary, had the desired impact.
"Classy enough to apologize via a spokesperson," one user tweeted.
Another one said, "Talk about entitled white chick. My staff will happily apologize for my bigotry, now would you mind using the service entrance, we have guests."
"#1 because Latinx is strictly a white liberal word created to appeal to gender confused white liberals and most Hispanics despise it. #2 she compared them to breakfast tacos. Really?," another one took his opinion on Twitter.
A user named deplorable said, "If Melania had said this you would want trump impeached."
Jenny Garcia tweeted, "She apologized to who… you? Will she be making a public statement or no?"
Another tweet reads, "because comparing latinos to bodegas and tacos isn't ridiculous, racist, or ridiculously racist."
People clearly had a great time making fun of the First Lady's "sincere" apology.
The First Lady apologizes that her words conveyed anything but pure admiration and love for the Latino community.

— Michael LaRosa (@MichaelLaRosa46) July 12, 2022
You mean Latinx?

— AN (@MaxNordau) July 12, 2022
Has anyone ever told you that when you find yourself in a hole, the best thing to do is to stop digging? pic.twitter.com/Edhk3Aye3s

— Michele Blood (@BloodBrief) July 12, 2022
Even the cringe meter looks like a taco

— E Shrubber (@e_shrubber) July 12, 2022
She apologized to who… you? Will she be making a public statement or no?

— Jenny Garcia Sharon for Congress (@jenny4congress) July 12, 2022