Feds On The Verge of Charging Hunter Biden For Crimes Found On Laptop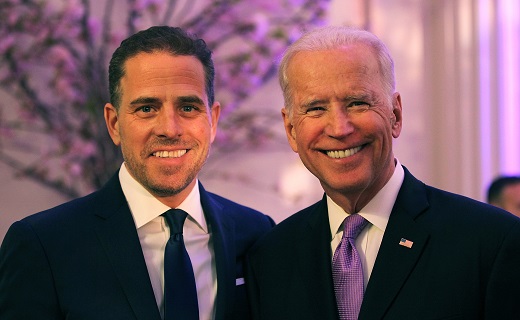 Hunter Biden, the son of President Joe Biden, may face many criminal charges, according to recent reports from federal prosecutors. The alleged transgressions include everything from numerous dubious business deals involving Hunter Biden to allegedly falsifying on a background check in order to get a gun.
According to rumors, Hunter Biden might face criminal charges from the Delaware office of United States Attorney David Weiss for several tax infractions as well as conceivable transgressions involving foreign lobbying.
According to CNN, it appears that investigators are focusing on possible tax infractions and crimes involving firearms.
The alleged gun charges stem from Hunter Biden purchasing a firearm at a time when doing so would have been prohibited due to his history of drug addiction.
According to people who are aware of the investigation, the criminal investigation into Hunter Biden had reached a crucial stage when a federal grand jury began looking into the president's son last month. The criminal investigation, which has been ongoing for the previous four years, is still ongoing, according to the source.
In violation of the department's rule of pursuing politically sensitive cases within two months of an election, the Department of Justice was debating whether it could file charges right now. The unwritten rule may not even be applicable at this moment, the paper did mention, as Joe Biden is not a candidate for president.
Some authorities worry that Hunter Biden's past addiction to crack cocaine might undermine any charges they file against him if the defense argues that he was drugged and unaware of his possible offenses.
The most recent news regarding the potential criminal charges that Hunter Biden could be facing in the near future did not include information that was contained in a separate report that was based on a 4chan leak from earlier this month suggesting that the president's son could also face federal charges related to prostitution. These claims appeared in a different report.
Feds Considering Charges Against Hunter Biden https://t.co/TvSvlCVs0M

— toddstarnes (@toddstarnes) July 21, 2022
'Critical Stage': Feds Consider Charging Hunter Biden With Multiple Crimes, Including Gun-Related Crime https://t.co/onTreiD2y6 pic.twitter.com/qO1Ql9pKvc

— Daily Wire (@realDailyWire) July 21, 2022
Hunter Biden weighing his crack. pic.twitter.com/7TGVU5l7Q7

— Pedestrian Patriot 🍊 (@DLevelwind) July 11, 2022