Elon Musk Officially Owns Twitter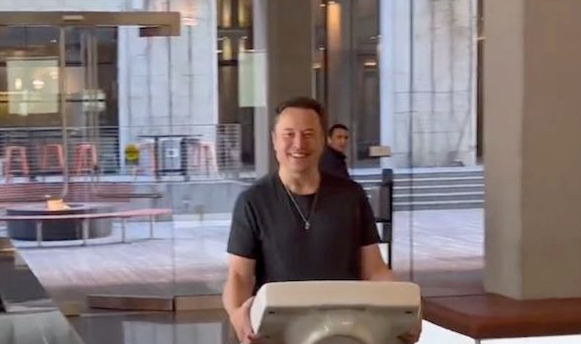 Elon Musk, the richest man in the world, arrived the Twitter headquarters carrying a sink after purchasing the social media service.
"Let that sink in!," along with the video, Musk posted to Twitter. He also changed the title of his profile to "Chief Twit."
Entering Twitter HQ – let that sink in! pic.twitter.com/D68z4K2wq7

— Elon Musk (@elonmusk) October 26, 2022
Musk purchased the social networking site after criticizing its lack of free speech protections.
For years, Twitter has effectively served as a Democrat Party front organization, constantly removing anything that doesn't fit the liberal narrative promoted by the media.
Musk suggested paying $54.20 per share to acquire the dominant social media company. The platform was priced at #44 billion.
Elon Musk proposes Twitter deal going through at full $44 billion price: report https://t.co/9xM2PAZMuG pic.twitter.com/AawuJN2rog

— New York Post (@nypost) October 4, 2022
When Musk contended that spam/fake accounts were much more prevalent than the initial 5% indicated by Twitter, the agreement was put on hold back in May.
"Twitter deal temporarily on hold pending details supporting calculation that spam/fake accounts do indeed represent less than 5% of users. The bots are angry at being counted," Musk wrote on his Twitter account on May 13 of this year.
Bloomberg: Elon Musk is moving forward with his Twitter purchase

Live look at Woke HQ realizing their Teslas are now funding the takeover: pic.twitter.com/rvmYdxU7LM

— End Wokeness (@EndWokeness) October 4, 2022
According to Twitter CEO Parag Agrawal, the company is unable to identify which accounts are fraudulent at any one time.
"Our actual internal estimates for the last four quarters were all well under 5% – based on the methodology outlined above. The error margins on our estimates give us confidence in our public statements each quarter. Unfortunately, we don't believe that this specific estimation can be performed externally, given the critical need to use both public and private information (which we can't share). Externally, it's not even possible to know which accounts are counted as mDAUs on any given day," Agrawal said in a statement.
According to Musk's attorney, Twitter violated a number of material terms of the takeover agreement.
At the moment, Musk ended the agreement. Twitter claimed the dismissal was illegal and unjustified.
Musk subsequently sent a letter to Twitter with the final offer.
*MUSK SAID TO PROPOSE TO TWITTER TO PROCEED W/ DEAL AT $54.20$TWTR shares just spiked and now are halted pic.twitter.com/cF6k1SfF1r

— Kailey Leinz (@kaileyleinz) October 4, 2022