Disney Employee Stops Marriage Proposal In Absurd Video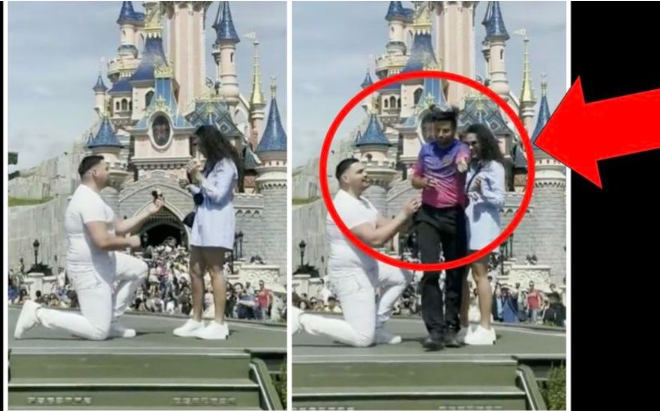 A Disney employee has officially become the internet's biggest villain.
A guy attempted to propose to his girlfriend in Disneyland Paris in France in a video that has gone viral, but a staff member jumped in and politely told them they had to go.
The happiest place on Earth…unless this loser is on duty pic.twitter.com/Dn0VHwCthx

— BROTHER (@BrotherHQ) June 3, 2022
Before ascending a platform in front of the Sleeping Beauty Castle to propose to his fiancée, the guy reportedly sought permission from a park staffer. A male employee rushes into the scene, darts between the two, and takes the ring box as he sinks on his knees carrying a ring box. He then motions for the couple to exit the platform to finish their ceremony.
Onlookers can be heard booing as the action unfolds, evidently perplexed by what is going on.
On Reddit, the proposal video received over 9,600 comments, and it was also posted on Twitter, where it was watched by thousands more.
This @Disney employee stopped a proposal by GRABBING THE RING out of the man's hand and telling them to move. This man had permission to do the proposal in this spot and this jerk literally ran up during the proposal and ruined their magical moment.

Absolutely insane. pic.twitter.com/jGc7mIkuEj

— RayReptile™ (@RayReptile) June 3, 2022
Many others were upset for the duo, with one calling the staffer awful for ruining the occasion.
Another commenter stated that the worker was only executing his job, continuing, "They are in a no guest zone on a stage. So basically a restricted area. And the employee that gave permission probably didn't have the right to do so."
Given the fact that the employee was out of line, Disney appears to be striving to rectify the problem. A representative expressed apologies for the way the incident was handled. They issued a public apology to the couple and offered to make things right.