Delivery Driver Saves Boston Terrier Puppies From Burning Home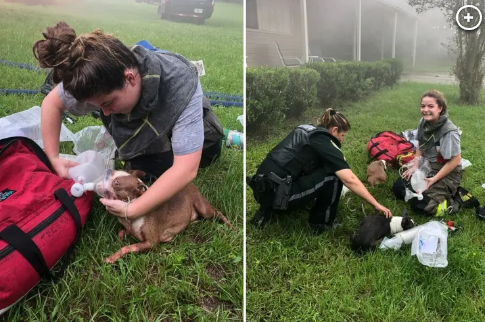 Three pups were trapped in a burning house, and an Amazon delivery woman in Lake City, Florida managed to save their lives.
While delivering gifts, the anonymous good Samaritan observed flames coming from a residence and dialed 911.
Just in time for firefighters to come, put out the fire, and save the three Boston terrier puppies, she had contacted emergency services.
The agency expressed gratitude to the Amazon driver who reported the smoke and dialed 911 in a Facebook post on Wednesday.
"Since the homeowner was not at home at the time, she saved the home and the puppies' lives!", read the notice.
Emergency personnel at the site reportedly revived and treated the puppies for smoke inhalation, according to Columbia County Fire Rescue. Thanks to the Amazon driver's prompt arrival, firefighters were able to keep the fire restricted to a single room in the interim.
Lauren Sutton, a homeowner, said on Facebook underneath the news, "Thank you for rescuing my babies."
Previous comments from Sutton's mother thanked the intrepid Amazon carrier and gave an update on the pets.
"Many thanks and appreciation!!! Those are my daughter's dogs that we love very much," remarked Lisa Ann Dunn. She went on to say that despite suffering severe lung injury, the animals are doing well and seem to be stabilizing at the hospital.
Dunn said, "Thank you will never be enough."
Dozens applauded the unidentified motorist and hailed her as a hero.
"Thank you for being at the right place and time," one said.