Biden Doubles Down On Bashing Trump And Maga In Speech Ignored By Media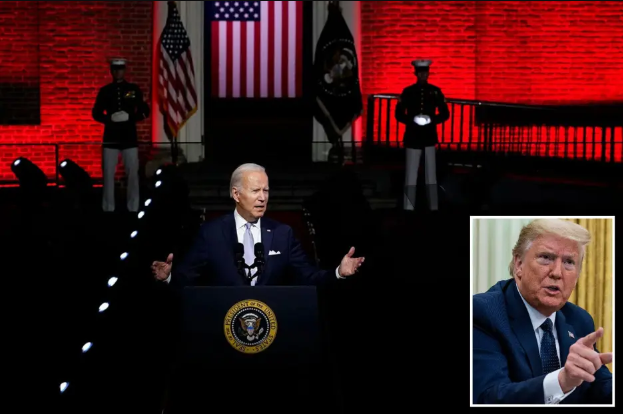 President Biden frequently criticized Donald Trump and "MAGA Republicans" in a blatantly political primetime speech that the White House portrayed as the fight for the country's soul. All major TV networks ignored the speech, and just two cable news stations broadcast it.
Throughout the 24-minute address, a heckler shouted "F-k Joe Biden" repeatedly. The president referred to "MAGA Republicans" and followers of his predecessor and prospective challenger in 2024, Donald Trump, as a threat to the nation.
About 20 minutes into his remarks, Biden was interrupted when further heckling could be heard coming from Independence Hall in Philadelphia on the official White House TV stream, "Too much of what's happening in our country today is not normal. Donald Trump and the MAGA Republicans represent an extremism that threatens the very foundations of our republic. There's no question that the Republican Party today is dominated, driven and intimidated by Donald Trump and the MAGA Republicans. And that is a threat to this country. They're entitled to be outrageous. This is a democracy."
Several TV stations broadcast the address live. The speeches were only carried live on CNN, MSNBC, and C-SPAN, which typically covers official events. It wasn't broadcast on ABC, CBS, NBC, Fox, PBS, Fox News, or Fox Business.
Biden spoke after his press secretary, Karine Jean-Pierre, informed reporters at a briefing in the afternoon that it wasn't a political address and that he would be speaking about bringing together the citizens of this nation who support equality and democracy.
However, Biden disproved his claim to avoid politics by referencing Trump three times by name and his MAGA (Make America Great Again) political campaign 13 times.