Crime On The Rise As Jewelry Store Employees Fight Off Robbers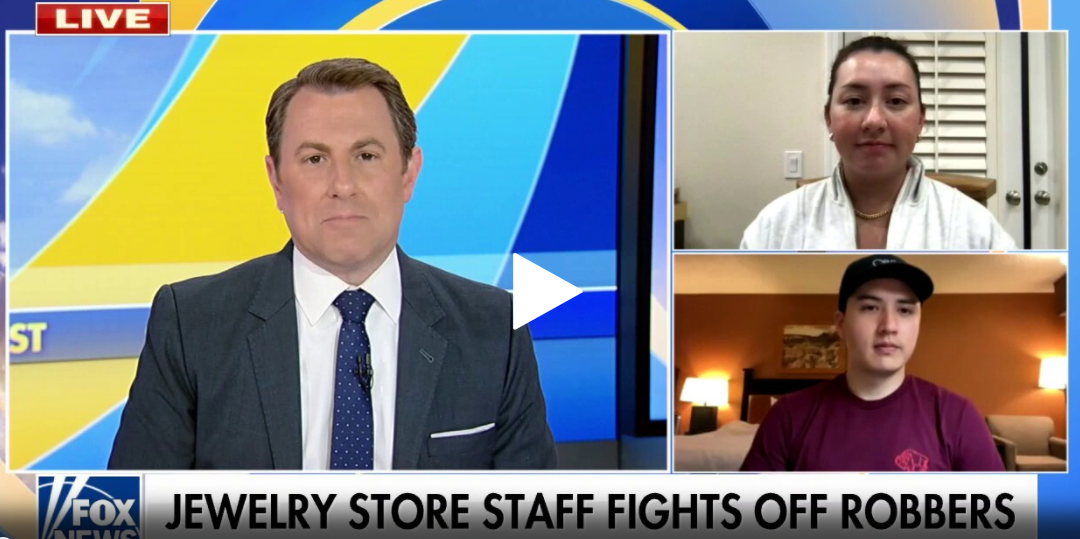 Employees at a jewelry store in Southern California fought off robbers who attempted a smash-and-grab robbery in an upscale Orange County area.
Princess Bride Diamonds is owned by Sarah Baca and Dallas Baca's parents, who appeared on "Fox & Friends First" on Tuesday to explain the brazen event and how they were able to halt the criminals in their tracks.
"I think this is like our livelihood, and we want California to be great again," Sarah said. "And this is like our home, and we want to defend it. I've grown up here my whole life. It's sad what the state has come to, but I believe we can turn it around with good people banding together who all have the same values."
By beating and kicking the suspects, the brother-sister combination and another store employee were able to stop the robbers. It happened over the weekend in Huntington Beach's Bella Terra mall.
Dallas stated that if a similar situation occurred again, he would do whatever it takes to stop the thieves.
"I'd rather get my snot kicked out trying my hardest than sit in the back and cower if people walk in," Dallas added, "but we're definitely taking this as a little bit of a wake-up call and just going to up our security and everything in the store."
At least four hooded suspects stormed into the business with hammers and bags in broad daylight, according to surveillance evidence.
Sarah stated that they had been concerned since rioting and looting began in Los Angeles, and especially since the same has spread to Orange County.
They are hoping that the police will receive additional cash so that more policemen can be assigned to patrol the streets at all times. Both of them also stated that these offenders should be prosecuted and sentenced so that they do not believe it is OK to commit crimes at any time.