Chilling Screams Heard After Alligator Attacks Swimmer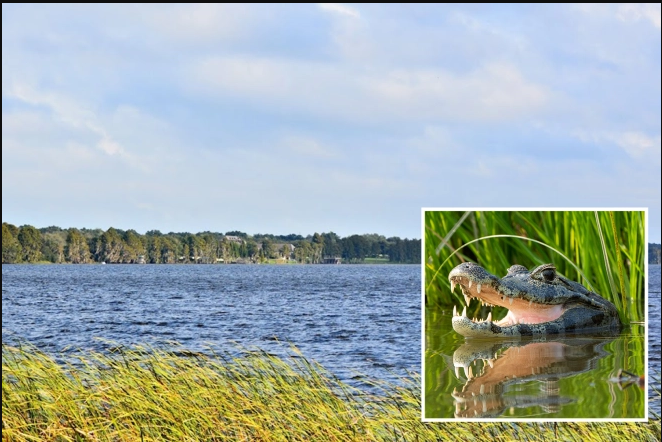 In Florida, an alligator attacked and bit a swimmer in the face.
The 34-year-old victim was viciously mauled on August 3 at Lake Thonotosassa, northeast of Tampa, according to witnesses.
Firefighters from Hillsborough County sent the man to the hospital after he sustained a face injury. It was quite brutal, a witness told WTVT. He had a large cut on his face, and a towel was covering it.
After the incident, police and representatives from the Florida Fish and Wildlife Conservation Commission (FWC) attempted to catch the animal.
A local resident named Jamie Slatton informed Fox13 that he had witnessed an alligator engaged in hunting behavior.
If the animal in question assaulted the swimmer is unknown. More than a million alligators are thought to reside in the state of Florida, according to researchers at the Florida FWC.
A few days before the assault, teenager Briann Morr reportedly observed a huge alligator charge toward her while holding its jaws wide.
The 13-year-old said that she slashed the animal as it attempted to grab hold of her.
At the Gardner Boat Ramp in Zolfo Springs, Morr claimed she was swimming with companions when the animal charged at her.
The kid was hurt during the vicious attack, and her mother Krystal took her to the hospital.
Even though physicians are certain there is no long-term harm, Briann admitted to NBC 2 that she was having problems moving her arm.
Rose Marie Wiegand, 80, was murdered by two alligators in July in Sarasota County after slipping into a canal next to a golf club.
A 70-year-old guy put his life in danger in an effort to save the elderly woman.
While playing the sixth hole at the Boca Royale Golf and Country Club, he witnessed her fall into the canal.
She slipped while removing weeds from the sloping lawn of the club.
At the scene, Wiegard was pronounced deceased.