CA High School Students Stage Mass Walkout Over Mask Mandate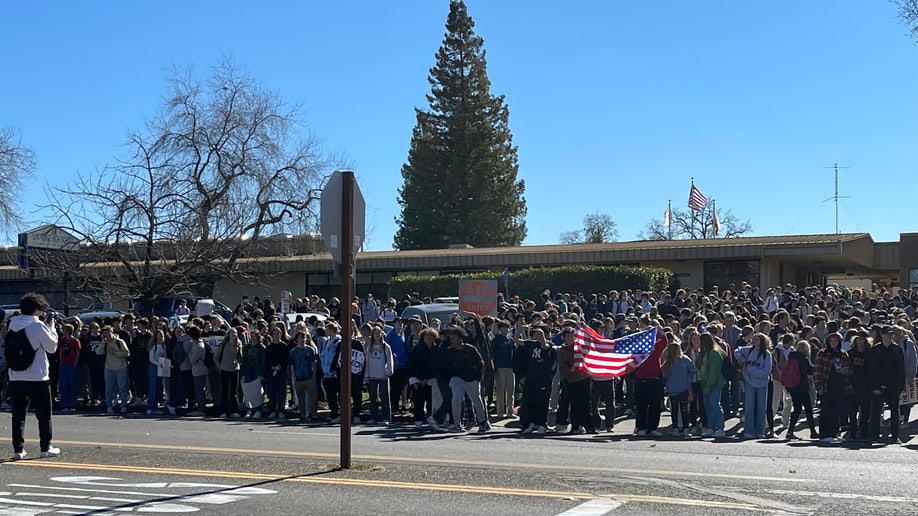 Large number of students at a northern California high school walked out of class Tuesday afternoon to protest their district's mask requirement, which has been maintained despite statewide limits being eased.
A crowd of maskless teenagers gathered outside Oak Ridge High School in El Dorado Hills, California, according to photos and video obtained.
Jennifer Yoder, an Oak Ridge parent and administrator of the "Eldorado Hills Republicans" Facebook page, said that she and other parents did not send their children to school wearing masks.
Yoder claimed that students who showed up to class without a mask were dismissed.
"It just kept growing and growing. And then they eventually just got up and left those classrooms and ran outside and started their protest," Yoder added.
El Dorado Union High School District sent out a letter to parents later Tuesday informing them that it's masking enforcement practices would be altered.
The district, which could not be reached for comment, stated in its letter that it was obligated by Sacramento's and the California Department of Public Health's policies.
The huge walkout came a day after Democratic Gov. Gavin Newsom postponed a widely anticipated decision on whether or not to repeal California's school mask rule, despite the fact that other Democratic governors throughout the country have done so recently.
While most Californians will be free to remove their masks in most indoor situations beginning Tuesday, students and teachers will have to wait. Newsom had set Monday as the deadline for a school-reform proposal, and then dispatched the state's top health officer to give the message of a postponement.