Biden Comes Up With New Way to Distract Americans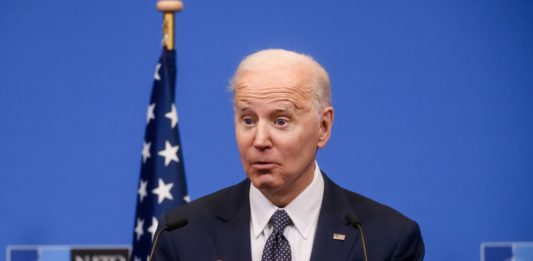 The Medal of Freedom is going to take place once more in a feeble attempt to divert Americans' attention from the political showmanship that is our contemporary reality.
Every few years, the White House has a custom of presenting a formal Medal of Freedom ceremony to recognize citizens who, in the president's opinion, made significant contributions to American society.
Is Megan Rapinoe the first person in American history to receive the Medal of Freedom after openly disrespecting the national anthem?

— Tim Young (@TimRunsHisMouth) July 1, 2022
It's a means to honor someone who made a substantial contribution to a field of public or private interest. This may have to do with promoting US interests or with matters of security, culture, or international peace.
The following ceremony is slated to take place next week. There are now 17 persons, both alive and dead, who will receive this homage, according to the White House.
When President Trump awarded the Medal of Freedom to the late radio presenter Rush Limbaugh during his presidency, the opposition fiercely criticized him, claiming Limbaugh was too far to the right.
Republicans will have plenty of material to attack and point out issues with some of Biden's picks.
Sandra Lindsay, the first nurse to get the risky COVID vaccination live on television, and football star Megan Rapinoe, who flagrantly violated our national anthem, are among those to whom Biden will present medals.
Raul Yzaguirre, the former leader of the racist, left-wing Latino supremacist group La Raza, is another contentious winner.
.@POTUS announces 17 Presidential Medal of Freedom nominees today, who will receive their honor on July 7th.

Biden received his own Medal of Freedom as VP from @BarackObama, which I believe makes him the first President to hand out the honor, having already received it himself pic.twitter.com/7SA2fP9Xcc

— Molly Nagle (@MollyNagle3) July 1, 2022
Olympic gymnast Simone Biles, actor Denzel Washington, ex-congresswoman Gabby Giffords, Steve Jobs, late senator John McCain, late union leader Richard Trumka, and Khizr Khan, the father of dead American hero Capt. Humayun Khan, are among the additional awardees.
Only Khan, Washington, Jobs, and Biles deserve to be on this list. Khan, however, was picked because of the insulting remarks made by President Trump to his parents.
Jobs was a superb creator who also had a significant impact on the development of the technology sector as a whole. At the age of 56, he passed away from cancer. He deserved to win this prize in life so much.
In addition to being a fantastic actor, Denzel Washington has backed several charitable initiatives benefiting our youth, such as the Boys & Girls Clubs of America.
Incomparable gymnast Simone Biles is an inspirational Olympic record holder who overcame adversity to reach where she is.
Despite the fact that they are wonderful individuals, Biden cannot deceive Americans with his bread and circuses.