Army Poised To Revamp Alaska Forces To Prep For Arctic Fight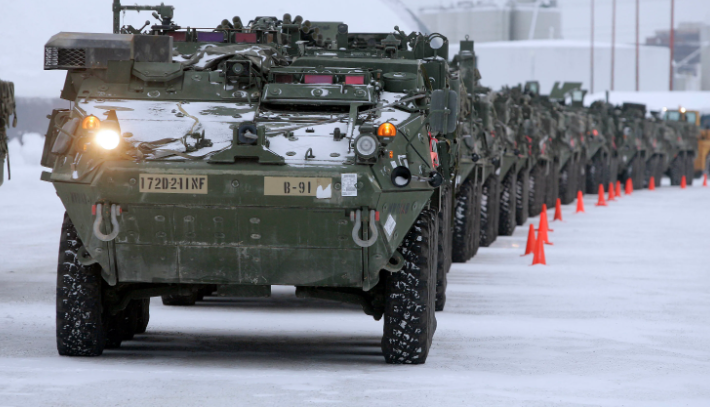 The U.S. Army chiefs said they are planning to overhaul their forces in Alaska to better prepare for future cold-weather fights. The bigger, more heavily armed Stryker Brigade will be replaced with a more mobile infantry unit more suited for the freezing struggle.
Army Secretary Christine Wormuth said she expects to make a final decision on the Alaska troop shift shortly, and that the Stryker unit, which employs heavy, eight-wheeled vehicles, will most likely be converted to an infantry brigade.
The United States has long seen the Arctic as a major region of rivalry with Russia and China, especially as climate change brings higher temperatures and opens sea routes for longer periods of time. Officials have admitted, however, that the United States lags behind such countries. China sees the region as economically significant for shipping and natural resources, and Russia has taken moves to bolster its military presence there.
Changes in the Army were being considered even before tensions between the US and Russia escalated following Russia's invasion of Ukraine.
The 1st Stryker Brigade Combat Team, 25th Infantry Division, now located in Alaska, would be changed to a light infantry brigade under the new Army strategy. The 11th Airborne Division will be located in Alaska when the two troops are combined with the division's 4th Infantry Brigade Combat team. And, according to Wormuth, the huge Stryker vehicles would be replaced with other vehicles that are better suited to the ice and snowy terrain.
A proposal to conduct significant training exercises for Alaska-based troops in their home state, in the weather conditions they would confront in an Arctic combat, is part of the increased focus on cold-weather war. The troops were supposed to leave for the Joint Readiness Training Center at Fort Polk, Louisiana, in March, but Army authorities chose to retain them in Alaska so they could train in the harsh temperatures and frozen terrain they'd face in a cold-weather war.
Pacific-based forces stayed in Hawaii for their scheduled drills at the National Training Center in California's Mohave Desert last year in an early trial event. As they strive to replicate circumstances and transport troops and equipment from well-established training sites to more distant areas, commanders say they've learned from the first two movements.
Wormuth visited with commanders at Joint Base Elmendorf-Richardson, who described the training change as a success. Commander of the United States Army, Maj. Gen. Brian Eifler Army Alaska said the advantages exceeded any limitations caused by the need to establish infrastructure for the isolated northern training exercise.