American Infants Go Hungry While Biden Sends Baby Formula to Illegals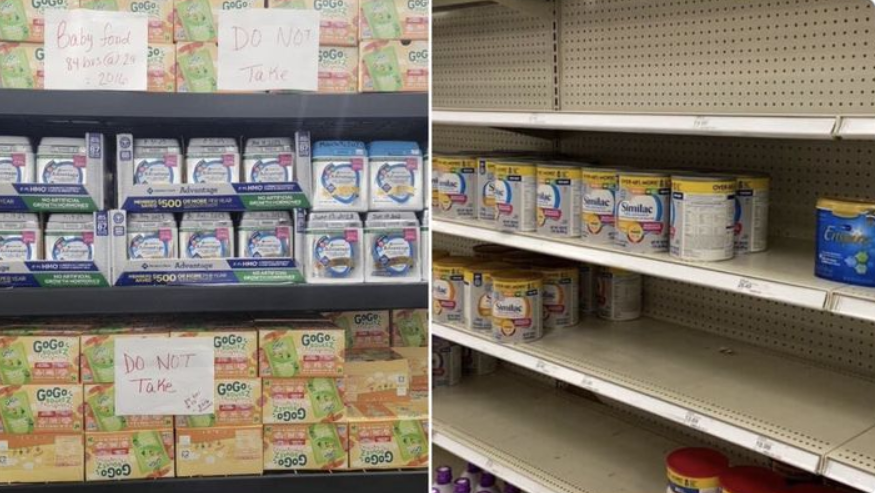 Rep. Kat Cammack (R-Fla.) accused the Biden administration of transporting pallets of baby formula to the Mexican border to distribute out free of charge to foreign nationals who enter the country illegally in a Facebook video.
"I have to tell you about the craziness of the Bare-Shelves Biden movement and the fact that they are sending pallets — pallets — of baby formula to the border right now." Meanwhile, we can't locate infant formula in our own region," Cammack explained. She displayed two photographs, one of which depicted allegedly empty shelves in a Target shop. According to Cammack, the second photo was supplied to her by a Border Patrol agent and depicted ample supplies of infant formula inside the Ursula Central Processing Center in McAllen, Texas.
Cammack also shared the photographs on Twitter.
The first photo is from this morning at the Ursula Processing Center at the U.S. border. Shelves and pallets packed with baby formula.

The second is from a shelf right here at home. Formula is scarce.

This is what America last looks like. pic.twitter.com/OO0V99njoy

— Kat Cammack (@Kat_Cammack) May 11, 2022
Detention centers for illegal immigrants have traditionally had supplies on hand to meet the requirements of those who cross the border on a regular basis. No civilized nation can deny a malnourished newborn or ill kid the nourishment and care they require once they arrive on its borders. The need for goods has risen dramatically as a result of Biden's permissive immigration policies, which have resulted in a tremendous flood of illegal immigrants. The scenario, along with the Democrats' harmful policies that have paralyzed the supply chain, has increased demand for already scarce supplies. Now, American parents are forced to compete with foreign nationals for the most basic sustenance that their children require in order to survive and flourish.