Armed Human Smugglers Arrested in Texas After Crash on Railroad Tracks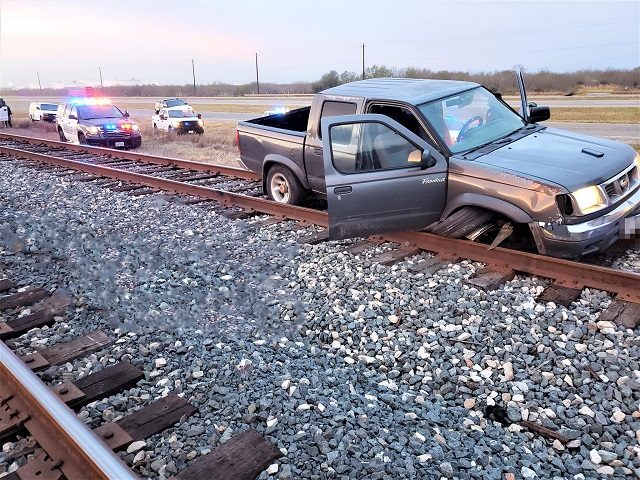 Two US citizens were arrested in isolated South Texas after a multi-agency endeavor. They were suspected of transporting five migrants. After escaping from a U.S. The two smugglers led police on a vehicle pursuit in La Salle County, Texas, that halted when the truck crashed onto train lines. Officers discovered a loaded firearm after searching the vehicle.
Agents from the Border Patrol sought to inspect a Nissan pickup vehicle at a permanent immigration roadblock on Interstate 35 north of Laredo early Wednesday. The alleged traffickers attempted to flee the checkpoint. When the vehicle became immobilized while driving onto a railroad track, the chase came to an end.
Laredo Sector agents assist La Salle County SO and @TxDPS in stopping a human smuggling attempt. The vehicle became stuck on railroad tracks. Once all subjects were in custody, a 9mm pistol and marijuana were found inside the truck.@CBPSouthTexas #LSCSO #TXDPS#HonorFirst pic.twitter.com/G0N1H6vKOV

— Acting Chief Patrol Agent Carl E. Landrum (@USBPChiefLRT) January 14, 2022
The vehicle's driver attempted to avoid the deputy by speeding on the interstate highway. In the hopes that the driver would yield, Border Patrol agents and Texas Department of Public Safety Highway Patrol troopers entered the pursuit. Rather than staying on the highway, the driver attempted to cross nearby railroad tracks. The collision rendered the vehicle immobile, leaving it stuck.
In addition to the two alleged people smugglers, authorities apprehended five migrants. During a post-arrest check, officers recovered a 9mm handgun concealed in the vehicle. The driver of the car and a suspected accomplice were arrested and charged with people smuggling by the La Salle County Sheriff's Office.
They were handed over to the Border Patrol to be processed administratively and removed.