Obama Expressed Support After Video Shows Audience Ignoring President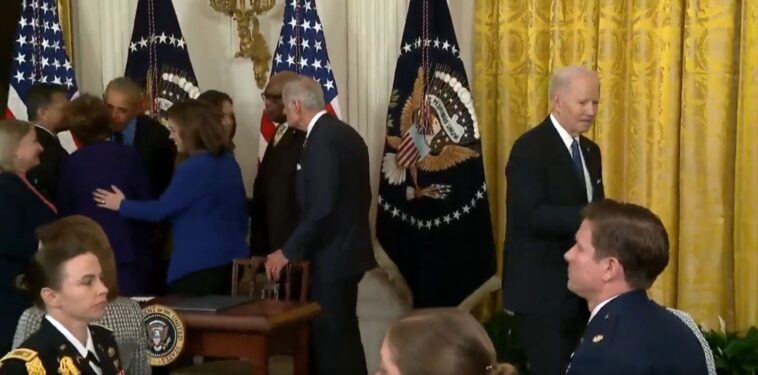 After images from the 44th president's first White House visit in five years showed audience members crowding Obama and Biden looking melancholy on stage, former President Barack Obama offered support for his former vice president, Joe Biden, late Tuesday.
Biden was shown wandering around alone himself before putting his palms up in apparent perplexity in a video that emerged on social media hours earlier. Audience members swarmed Obama behind him, including Sen. Amy Klobuchar (D-Minn.), who was having an impassioned conversation.
"Literally no one wants to talk to Joe Biden," the Republican National Committee's Research Twitter account wrote in response to the video.
Literally no one wants to talk to Joe Biden pic.twitter.com/ApZ2saHt71

— RNC Research (@RNCResearch) April 5, 2022
During Tuesday's speech praising ObamaCare, Biden was a good sport, referring to himself as Joe Biden, Barack Obama's vice president, and noting that his old boss's return to the White House brings back so many pleasant memories.
Always great catching up with @POTUS. Thanks for all you're doing to help even more Americans get access to quality, affordable health care. https://t.co/vDYBIxjIy9

— Barack Obama (@BarackObama) April 6, 2022
Following the event, Biden signed an order increasing health insurance subsidies to fix a "family issue" that makes it harder for lower-income workers to get health insurance for family members under ObamaCare.
The 44th president's visit came as Biden's popularity was plummeting, and his administration was grappling with a slew of crises, including soaring inflation, an impending massive influx of illegal immigrants crossing the border, the ongoing coronavirus pandemic, and Russia's bloody invasion of Ukraine.
According to data compiled by RealClearPolitics, Biden's average popularity rating was 41% on Wednesday, while his average disapproval rating was 53.8 percent.
According to a recent Rasmussen Reports poll, 56 percent of Americans disapprove of President Barack Obama's job performance, while only 42 percent approve.