101 Year Old Man Graduates Highschool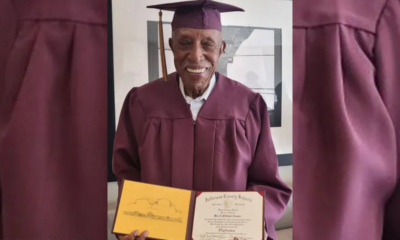 On March 19, a New Jersey man who was unable to complete his high school education during the 1930s due to his single mother's inability to pay his tuition received his diploma.
Merrill Pittman Cooper, 101, of Union, New Jersey, was a union leader in Philadelphia and one of the city's first Black trolley car drivers, according to the newspaper. Only a high school graduation separated him from a long and prosperous career.
Cooper was forced to drop out of Storer College in Harpers Ferry, West Virginia, following his junior year, a segregated boarding school founded in 1867 to educate previously enslaved students.
Cooper studied Latin, biology, history, English, and mathematics in college prepared courses at Storer, according to a press statement from Jefferson County Schools.
Cooper's mother, a live-in housekeeper, was unable to pay his senior year's final tuition payment. Cooper and Nancy Washington relocated to Philadelphia so that she could be closer to her family.
Cooper was born in Kearneysville, West Virginia, on February 9, 1921, according to internet sources. Cooper worked at Victory Cleaners And Dyers Co. in Philadelphia after graduating from high school, according to internet records. He also worked at a women's clothing store before being employed as a city trolley car operator in 1945.
My latest piece for The Post: Merrill Pittman Cooper always wished he'd been able to get a high school diploma. Now he finally has one — at age 101. ❤️ @washingtonpost https://t.co/qKSvYPUF7W

— Cathy Free (@cathyjfree) March 26, 2022
Cooper returned to his old high school in 2018 and expressed regret for not graduating.
Cooper's relatives wished for him to achieve his goal. In order to celebrate Cooper, they contacted Jefferson County school officials, who collaborated with the Harpers Ferry National Historical Park, the Storer College National Alumni Association, and the West Virginia Department of Education.