More Aides Abandon VP Harris as 2024 Ambitions Crumble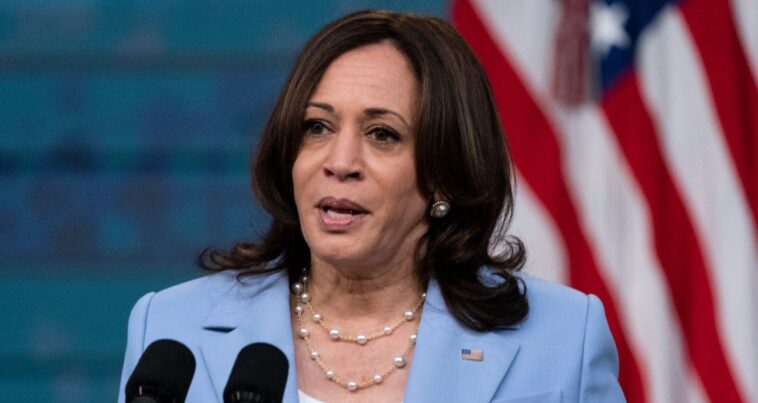 Kamala Harris is being abandoned by her inner circle. Unpopular vice president Kamala Harris's 2024 ambitions surpass her current election viability has seen two more political aides leave her political orbit.
"Two more aides working in Vice President Harris's office are expected to leave their roles in the coming weeks in addition to the two high-profile exits of her press secretary and communications director," The Hill reported.
"Peter Velz, who is the vice president's director of press operations, and Vince Evans, the deputy director of the Office of Public Engagement and Intergovernmental Affairs for Harris, are planning to leave those positions soon," the report continued to add.
"Harris' office declined to comment," The Hill stated.
"The Washington Post first reported on their impending exits."
Symone Sanders, who is leaving by the end of the year, is the chief spokesperson and senior advisor to the Vice President
"Why it matters: The VP has faced an onslaught of criticism in her first year centered on her leadership and staff, adding to the suggestion, she's not the Democratic Party's preferred nominee for 2024," Axios reported.
"The backdrop: Sanders was seen as one of the central staffers for Harris as a candidate and is known to be personally trusted by Harris herself / the staffer most frequently (or visible) by her side," the report added.
After a CNN piece by Kamala Harir on the Bidens, the White House became a rebellious place. Jack Posobiec, the Senior Editor at Human Events, reports that Sanders quit because of a disagreement with Kamala Harris about the CNN piece.
"Sy Sanders got pushed out of the WH because they blamed her for being the source of CNN's Kamala hit piece, per WH staffer," Posobiec tweeted.
BREAKING: Sy Sanders got pushed out of the WH because they blamed her for being the source of CNN's Kamala hit piece, per WH staffer

— Jack Posobiec 🇺🇸 (@JackPosobiec) December 3, 2021
The bitter White House infighting earlier claimed another casualty: The Vice President's Communications Director Ashley Etienne.
"Kamala Harris's communications director Ashley Etienne is leaving the vice president's office after reports staff are in-fighting and her boss is being sidelined," the Daily Mail reported.
"Etienne, a former staffer to Nancy Pelosi and Barack Obama, joined Harris' team shortly after the election," the report said. "At the time she said she would stay only a year. Vanity Fair first reported the news."
CNN claimed that the hit piece was written by "nearly thirty-eight former and current Harris aides and administration officials." CNN claims that the piece was composed entirely of Democratic operatives and donors who spoke exclusively to CNN.
"Many in the vice president's circle fume that she's not being adequately prepared or positioned, and instead is being sidelined," CNN reported. "The vice president herself has told several confidants she feels constrained in what she's able to do politically. And those around her remain wary of even hinting at future political ambitions, with Biden's team highly attuned to signs of disloyalty, particularly from the vice president."
CNN's piece warns that Harris could retaliate against Biden camp if they refuse to comply with her demands. This could refer to 25th Amendment threats made prior to 2020's 'election'.
"She's a heartbeat away from the presidency now," the CNN piece added. "She could be just a year away from launching a presidential campaign of her own, given doubts throughout the political world that Biden will actually go through with a reelection bid in 2024, something he's pledged to do publicly and privately. Or she'll be a critical validator in three years for a President trying to get the country to reelect him to serve until he's 86."
There has been talk in Washington D.C. about Kamala Harris "pursuing other opportunities" to help the Biden team get her out of the White House.
Due to her public perception as plainly unlikable, her political ambitions seem severely restricted.
"A USA Today-Suffolk University poll placed Vice President Kamala Harris' approval ratings at 28%, 10 points below that of President Joe Biden," Larry Elder remarked in an editorial. "The U.K. Telegraph tweeted: "With Kamala Harris looking unelectable, the Democrats are considering the nuclear option. Whispers in Washington suggest Joe Biden's camp has a plan to find a more popular replacement ahead of the 2024 battle."
For the vice president, the walls are closing in. Kamala Harris's presidential ambitions seem to be diminishing faster than her boss's cognitive abilities.