Massive 7.8 Earthquake Hits Turkey – Death Toll Expected to Rise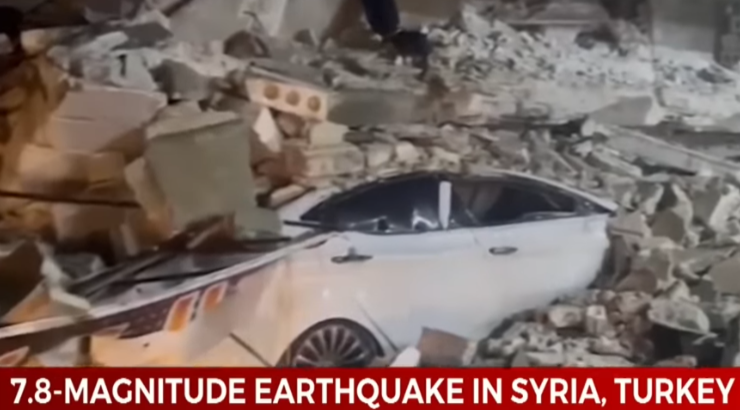 A massive 7.8 magnitude earthquake slammed Turkey early Monday and was felt in Syria and Egypt as well. As of this writing, at least 175 people had died, with the death toll projected to grow.
#Earthquake in 26km E of Şekeroba. Lat: 37.2 Lon: 37.0. #Magnitude: 7.8. Depth: 24.075. 06/02 at 01:17 UTM. https://t.co/0rNk1h0Utg pic.twitter.com/txkdODy1uU

— ADAM Disaster Alerts (@WFP_ADAM) February 6, 2023
The Associated Press reports:
The 7.8 magnitude earthquake that struck southern Turkey early Monday is tied as the strongest the country has experienced in more than 100 years of records, according to the United States Geological Survey (USGS).

The USGS said an equally powerful 7.8 magnitude quake that hit eastern Turkey in 1939 resulted in more than 30,000 deaths.
The United States Geological Survey (USGS) earthquake map currently shows that the region is experiencing several aftershocks.
As the scope of the catastrophe becomes clear, apocalyptic videos are being shared on Twitter:
Southeast Turkey was hit by a 7.8 magnitude earthquake that lasted 90 seconds. Over 100 buildings were reported to have collapsed in my home town alone (Malatya).

People waiting for rescue are reporting their locations at #DEPREMOLDU pic.twitter.com/RVN3acqBcc

— Eren Bali (@erenbali) February 6, 2023
CNN reports:
Karl Lang, an assistant professor at Georgia Tech University's School of Earth and Atmospheric Sciences, told CNN the area hit by the quake Monday is prone to seismic activity.

"It's a seismogenic area. It's a very large fault zone, but this is a larger earthquake than they've experienced any time in recent memory," Lang said.

"The magnitude of shaking that is felt on the surface is both a function of the amount of energy released, the size of the earthquake, but also how far that energy is released below the surface. So if it is very close to the surface, if it is a shallow earthquake, then it can be very dangerous."
Scary footage of the earthquake in Turkey tonight.
pic.twitter.com/NweJRwrnhn

— Faytuks News Δ (@Faytuks) February 6, 2023
The earthquake struck Turkey at 4:17 a.m. local time, when most people were likely asleep at home. According to the Associated Press, the dead toll will almost certainly rise:
Rescue workers and residents frantically searched for survivors under the rubble of crushed buildings in multiple cities on both sides of the border. In one quake-struck Turkish city, dozens pulled away chunks of concrete and twisted metal. People on the street shouted up to others inside a partially toppled apartment building, leaning dangerously.

The quake, felt as far away as Cairo, was centered north of the city of Gaziantep in an area about 90 kilometers (60 miles) from the Syrian border.

On the Syrian side of the border, the quake smashed opposition-held regions that are packed with some 4 million Syrians displaced from other parts of the country by the long civil war. Many of them live in decrepit conditions with little health care. At least 11 were killed in one town, Atmeh, and many more were buried in the rubble, a doctor in the town, Muheeb Qaddour, told The Associated Press by telephone.
Bitlis, Tatvan
People are in the streets under the heavy snow, no one enters their houses in fear of the earthquake. #Deprem #Turkey 🇹🇷 pic.twitter.com/lso9wFVTnX

— Aleph א (@no_itsmyturn) February 6, 2023
This story is still developing