Jen Psaki Snaps After Hunter Biden Laptop Question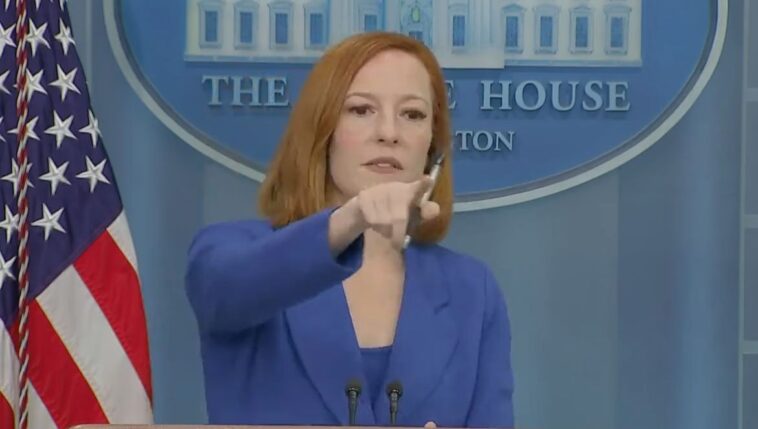 At Friday's press briefing, White House Press Secretary Jen Psaki snarled at a reporter who had the temerity to bring up Hunter Biden's laptop from hell.
"Thanks, Jen. I've got a quick clarification and two questions about presidential conflicts of interest in foreign affairs," the reporter inquired.
"The first brief clarification is: The New York Times reported this week that the First Son remains under criminal investigation," he questioned. "Does the President still intend to stay out of that case?"
"Yes. It's the Department of Justice, and I would point you to them," Psaki answered.
The New York Times published more evidence this week that the US media, the Intelligence Community, and even Joe Biden himself lied when they rejected the validity of Hunter Biden's laptop and labeled it as likely Russian misinformation.
Prosecutors interviewed Mr. Archer last year and subpoenaed him for papers and grand jury testimony, according to the sources. Mr. Archer, who was jailed last month in a separate securities fraud case in which a decision to overturn his conviction was overturned, had sat on Burisma's board of directors with Mr. Biden since 2014.
Prosecutors investigate emails between Mr. Biden, Mr. Archer, and others concerning Burisma and other overseas commercial activity, according to people familiar with the investigation.
The New York Times received the emails from a cache of files that appear to have come from a laptop left in a Delaware repair shop by Mr. Biden. The email, as well as the others in the collection, were verified by people who were acquainted with them and the probe.
Mr. Biden mentioned FARA in a few of the emails, and expressed a wish to avoid triggering it.
For the Biden administration and the American people, the Hunter Biden laptop has turned into a national security nightmare. This information comes at a time when events in Russia, Ukraine, and China have escalated into serious international dangers. Now the question is, how much did Joe know about his son's questionable business dealings, and who is the "Big Guy" who took 10%?
Jen Psaki is advised to avoid answering such queries directly. She clearly does not feel the American people can take the terrible reality.